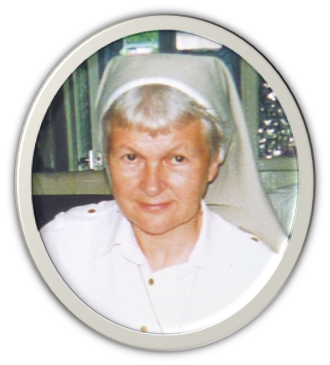 Sr. Anne Bernadette – Maureen Sheehan
of Kilbatha, Co. Kerry, Ireland
who died at Llantarnam Abbey
on 19th July 2022, aged 92 years, 69 of Religious Profession.
Sr Anne Bernadette – Maureen Sheehan – was born on the 8th May 1930, in Kilbatha, County Kerry in Ireland. She was one of a large family, born to Ellen and Thomas Sheehan. Anne loved all her siblings and had wonderful memories of playing with and caring for the younger children. Her childhood was happy and carefree. She attended the national school in Kilbatha and later a Domestic Training College in Claremorris, Co. Mayo. Dates she remembered clearly were her First Communion, her Confirmation Day and the day she left home to enter the convent.
Her first contact with the Sisters was when she and her sister Veronica were working in London, and they went to Grove Park to meet with Mother Baptist, with a view to her entering. She had a deep desire to give herself to God in Religious Life. Veronica, a nurse, was so impressed on hearing about the nursing apostolate of the Sisters that she decided to join Anne Bernadette. They entered on St Patrick's Day 1951. Leaving family and home was a sad occasion, but they soon found themselves in the novitiate, with a big group of lively young women, some of whom were from Kerry. Sister valued her religious training and was greatly appreciative of Mother Walburga, the novice mistress. Coming from a faith-filled family, prayer was already central to her life, and she now valued learning how to deepen this. She longed for the day when she would make her vows. She was so grateful to have Sr Veronica with her in the Novitiate at this time.
After vows she went to Redruth for one year and to Killorglin for a year. She was then in Cardiff for 8 years as a homemaker. Sisters who lived with her at this time remember her as a gentle, kind and caring Sister, and an excellent cook. When a community was opened at the Bishop's House in Clifton, Bristol, Sr Anne Bernadette was sent there. Her superior in Cardiff, Mother Felicitas, said of her that she was fit to cook for the Queen, not to mind for a Bishop!!!
In 1967, Sister moved to Pilltown, and here she was a Community Worker in a new project, working mostly with poor families and with the Travelling People. She did excellent work and was deeply loved by the people, and she loved them in return. From 1970 to 1972, she did Social Work training in Liverpool. She then returned to Killorglin to take up Social Work, working with Families with a variety of problems. She did this until 1977. The local people could not speak highly enough of her. She was always willing to go the extra mile, night or day. In 1978 she moved to Taunton as Superior. While there she was involved in some voluntary social work in the area, in the recruitment of foster parents.
From 1980 to 1986 she was in Pollok, Glasgow, again doing Social Work, which she loved. She helped many families trace their origins and she re-united many of them. This was a work she deeply loved and she was very good at it. She then spent time in both Merthyr and Penarth, before ill health finally obliged her to come to the Abbey for the care she needed. Here she remained for the next twenty-two years. She said "Getting ill, and no longer being able to do anything is so hard, but God does not ask more of us that we can give."
She was very grateful to have Sr Veronica with her in her last years in St. Joseph's. She visited her every day, saying the Rosary with her, and sharing news of the family, of whom they were so proud. Their sisters, brothers, nieces and nephews were all so supportive of them, and visited them when they could. These last years of Sr Anne Bernadette's illness were hard for her, and she suffered. But she was always so grateful for the care she received.
Sr Anne Bernadette had many gifts and talents. She was a real perfectionist, whatever she did was done perfectly. She had a great love for the poor, especially for poor children. Many she placed in good adoptive homes, and they still kept in contact with her. Her empathy with children in trouble was so evident in her daily prayers over many years for little Madeleine McCann, the little girl who disappeared without trace while on holiday in Portugal. She was a woman of deep faith and prayer. Sr Louise, A Sister of Charity who worked with Sr Anne Bernadette, said of her "she was a most competent person, a sensitive skilful and resourceful social worker. She was always gentle, refined, delightful to work with, and an asset to the Children's Society".
She loved the staff here in St Joseph's and prayed much for them, and we know she will continue to do this for them now. She loved her two families...her Sheehan Family and her St. Joseph family. Since her death on 19th July, 2022, she has no doubt been continuing to care for us all from her place in heaven. May you now rest in peace, Sr Anne.