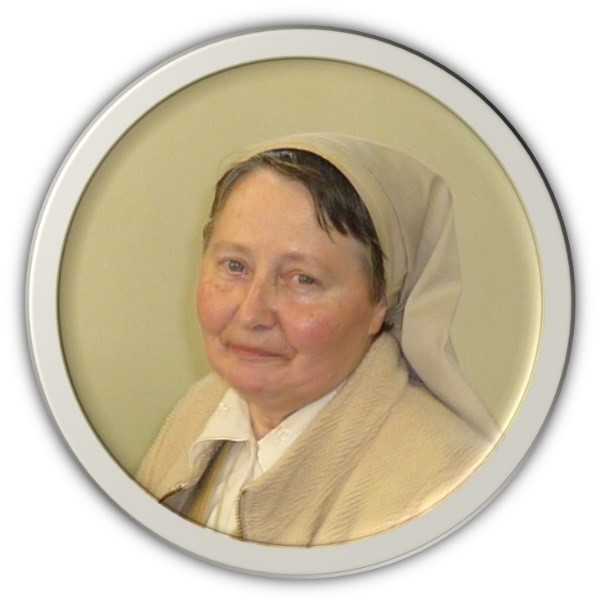 Sr. Maria – Mary Anne Quinlan
of Thurles, County Tipperary, Ireland
who died at Llantarnam Abbey
on 14th January 2022, aged 77 years, 50 of Religious Profession.
Sr. Maria, Mary Anne Quinlan, was born on 23rd June 1944 in Thurles, Co, Tipperary, Ireland to Edmond (Ned) and Mary (nee Ryan). She was to be the youngest of their three children. Her brother, Michael was just two years old and her sister, Bridie, only one, when she arrived. Until that time, the family and workers living in the farmhouse had all been adults, but the birth of these children filled the old walls with new life and energy.
The Quinlans and the Ryans were well known in this farming community and there were many family members and friends to welcome the new arrival. It was here that the young Mary Anne was grounded in her Catholic faith, her love for the countryside and nature with its many changing seasons, Gaelic games and her interest in family history.
Life on the farm was busy and everyone was expected to contribute. Mary Anne would have witnessed the birth of calves and lambs and other young animals and would soon have helped with the deliveries herself. As the farm provided for most of their needs, there was little that the family needed to obtain from elsewhere, and one can only imagine that, once school was over, the children were fully engaged in the everyday tasks of helping their parents.
However, there was some time for relaxation and the game of hurling was one which they often played and enjoyed. Sr. Maria's nephew, Ailbe, remembers his father, Michael, saying that Mary Anne showed "steely determination" when playing with himself and Bridie and was certainly a force to contend with. She loved Irish music and culture and liked to sing. In latter years she could be heard humming quietly as she waited to unload the dishwasher in St. Bernard's dining room at the Abbey. Being the shy, unassuming person she was, she would just smile if anyone complimented her on her lovely voice.
When she was twelve years old, her mother, Mary, died unexpectedly and the children did all that they could to support their father and grandfather during this time of sorrow. Edmond died while Mary Anne was still a teenager, and it was only after a few years that she decided to follow God's call and enter with the Sisters of St. Joseph of Annecy.
Having spent a year in St. Joseph's Convent, Killorglin in Kerry, she came to Llantarnam Abbey on 24th September 1968 to begin her postulancy or pre novitiate. She had some community experience in Ross-on-Wye, before beginning her Novitiate in 1969 and became Sr. Maria. Two years later, on 8th December 1971, she made her First Profession. During her "Juniorate" she was missioned to Merthyr Tydfil and Taunton, before returning to the Abbey where she made her Final Profession in December 1976.
Sr. Maria's great love for her family and its history made her very aware of the various connections between ancestors and dates of different events. She was passionate about finding out as much information as possible about both sides of her family tree and was very knowledgeable of all aspects of Irish history. This same precision was shown when she recorded the various communities in which she had lived and worked. She recalls that she was in Blairs (Scotland) "from 15th June 1977 until 15th June 1986 (9 years to the day)."
During her time in the Junior Seminary in Aberdeen, she was part of the team of hard-working Sisters who looked after the domestic arrangements and cared for the priests and the boys who were discerning their vocations. Many of them were very young and often homesick, missing their parents and siblings. Sr. Maria and the other Sisters did all in their power to show them the concern and support that they needed.
After her death was announced on "Facebook", hundreds of warm and sincere comments were posted – many by the past students who had appreciated Sr. Maria's quiet presence. One wrote," So sorry to hear the news. I was at Blairs College whilst Sr. Maria was there, and she was so kind and caring. She even made the chores of washing up an enjoyable experience with her constant happiness and song. God bless Sr. Maria and rest in peace."
This shy and self-effacing person would have been amazed by the outpouring of love and affection shown by so many of the people who wrote about her and sent their sympathy. Many recalled their visits to Llantarnam Abbey where Maria had been stationed since 1986 and where she had employed the many wonderful skills she had learnt as a young girl in Tipperary. She was a home maker and welcomer; someone who was faithful to all the little jobs about the house and who did everything quietly and without fuss. Each evening she made sure that everything was secure by checking every window and door and ensuring that all gates were locked. She was a shepherdess and "midwife" to the sheep which had difficulty in delivering their babies and she nurtured the lambs that were rejected by their mothers. Thus, Spring was a very busy time for Sr. Claude and herself. She was a keen gardener and cared for her plants with the same tenderness she used with the sheep and cows. Above all, she was a woman of prayer and simple faith, and this shone through everything she undertook.
Sr. Maria was a faithful friend to all but especially to Sr. Claude, with whom she had worked for many years and with whom she travelled home to Ireland for holidays each year – ensuring that the visit would coincide with the All Ireland Hurling Final. Much discussion and great excitement preceded this game, with Maria having listened to as many matches as she possibly could throughout the year. When it was not possible to listen to a match, family members sent WhatsApp messages – updating the scores as the game progressed so that she could be fully involved.
Sr. Maria, Mary Anne Quinlan, the quiet unassuming woman went peacefully home to meet the Good Shepherd, whom she so dearly loved, on the morning of 14th January, after a short illness, knowing that she was loved dearly both by her sister, Bridie and her husband, Seamus, her sister-in-law, Nonie, her nieces and nephews and their families and by her many cousins - as well as by her Religious family. May she rest in peace.