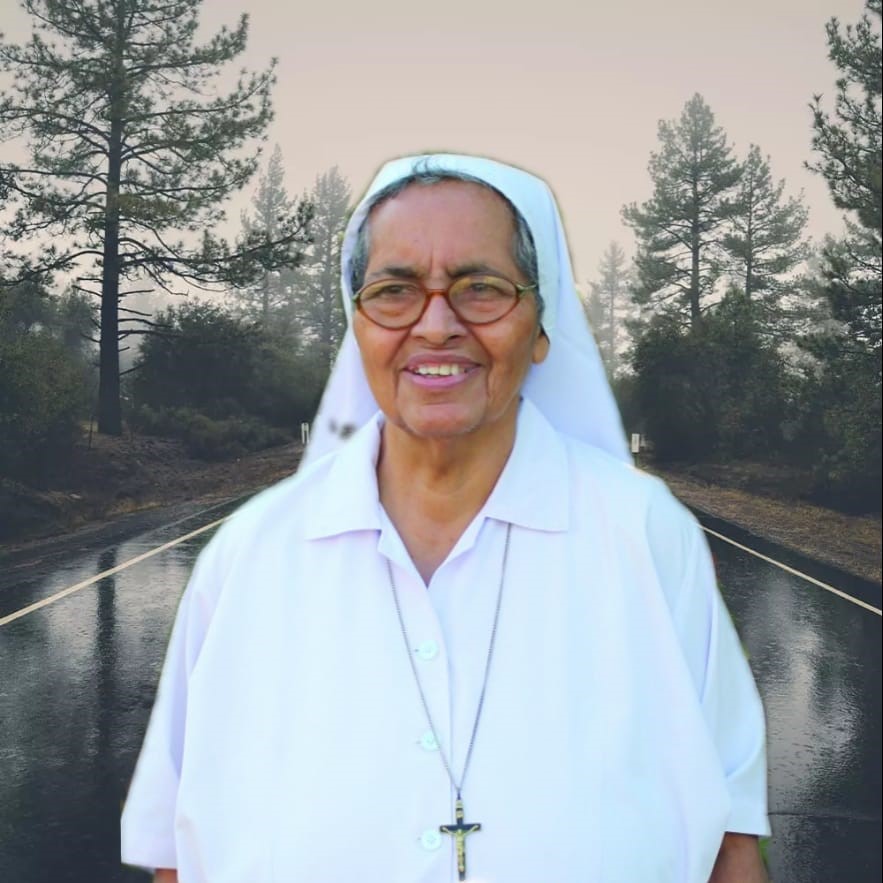 Sr. Marie Leonie – Mary Thoppurathu
of Kottayam District, Kerela, India,
who died at St. Joseph's, Jokalandi, Bhubaneswar
on 3rd December 2022
aged 86 years, 64 of Religious Profession.
Mary Leonie was born in Punnathara, Kottayam District in Kerala on 17th January 1936. She was the eldest daughter of late Mr. Joseph Thoppurathu and Mrs. Annamma. She has three brothers and three sisters. She studied class 1 to 5th in Arupmaroor, Kerala and 6th to 10th in Arpukara. Fr Sebastian Plakithotil her uncle was her vocation promoter. He brought her to Visakhapatnam along with many other girls and her cousin, Sr. Amelia.
The superiors responsible observed giftedness, simplicity and courage in her. Therefore, she was sent to Annecy, the Mother House of Srs. of St Joseph of Annecy, to begin her novitiate. She entered the Novitiate on 2nd February 1955; made her first profession on 3rdMay 1958 and took the name Sr. Marie Leonie. She was then sent to Wales in England to be trained as a physician. She was a student in Cardiff, England from 1959 – 1966, where she completed her MBBS and later MD in Wales. She made her Final Profession on 11th September 1961. She served in Ireland as a home surgeon from 1966 to 1968. Then she was sent back to India to serve in St. Joseph's Hospital Maryland where she worked from 1968 to 1980.
After this, she was placed in Prathipadu dispensary where she severed the leprosy and TB patients for six years. From 1987 to 1994 she was in Bobbili as the administrator of St. Joseph's Hospital and local superior of the community. Meanwhile she was elected as the assistant Superior General of the Congregation and stayed in Annecy from 1994 to 2000. In May 2000 she was elected as the Superior General, the first Indian to be elevated to the post.
During her tenure the overseas mission of the Congregation expanded. It was her initiative to start the mission at Tanzania. She was passionate in taking risks and venturing into new undertakings. It was during her administration a new province in Bhubaneswar, India, was formed. She held the responsibility with diligence and courage until she completed her term in the year 2007. She came back to India and chose to be in the village hospital at Bobbili where she gave herself to the sick and poor of the locality until 2015. She was the administrator of the hospital and local superior there.
In 2015 she travelled to Northeast to consolidate the new mission in Agartala and the hospital where she felt the presence of a doctor was inevitable. She rendered her valuable service there for three years. In the meantime, her health began to fail and age-related complications became a barrier to her continuing her mission. She was then brought to Jokalandi to our Home for the Elderly sisters. She, like Jesus who shed the last drop of his blood for humanity rendered her service even when her health was deteriorating. She served the patients to the last, until she became bed ridden. Even in her helpless state she radiated a childlike attitude to the people who looked after and visited her. She remained ever pleasant, loving and a blessing to all of us. She blessed us each time we bid farewell to her. After a few days struggle and discomfort on 3rd December 2022 at 8 pm while the sisters were praying at her bedside, she breathed her last and faded away peacefully.
We believe her blessing will be with us as she always was a blessing in this world. We are proud of you dear Sr. Leonie for all that you have been to each one of us. We have all been healed by your touch and your presence. Our thought of you will ever be a burning candle in our hearts.
We learn from her that she had a large heart where she could accommodate people of different cultures and personalities. During her years of service, she broke the barriers of culture and considered love reigns over everything in this passing world. She moved from French culture to an English one, and then to the city in Andhra Pradesh and later to remote villages. Only a person with zeal can be so joyful and adaptive like her. We honour her as the true daughter of Fr. Meddle the founder of our congregation who teaches us be zealous in our mission, "In works of zeal, the distinctive mark of your profession, imitate those who are most zealous. Let your desire reach out to the whole world and make it perfect. Have a truly humble and courageous spirit which will urge you to do all to suffer all and to undertake everything to promote God's glory and your neighbour's salvation." (Maxim 7)
She was a person of relationship indisputably lived the charism of our Congregation which is DOUBLE AND TOTAL UNION. However busy she was, she found time to be with God and was in total communion with the sisters in the community and the people she served. People placed their trust in her for their healing. Her gentle touch brought healing and solace to them.
Sr. Marie Leonie, was a great visionary and a radical follower of Jesus Christ and who walked extra miles for the mission of Christ, has left behind an indelible mark of service and love. She has won the hearts of many. She had an amazing pair of healing hands. Her sweet loving personality, indomitable commitment to the mission, passionate love for the poor, the sick women, the children and victims of TB. Leprosy and HIV infected are etched in our hearts. Even in the midst of her challenging works she remained jovial and joyful. She knew how to balance her life. Her optimistic approach and dynamism were remarkable. We are proud of our sister for being the great leader, healer and comforter, spiritual guide that she was, but, above all, for being the personification of Christ's healing presence in this sick and troubled world.
Dear sister, we, together with the entire congregation across the globe, and the benefactors, well-wishers and beneficiaries of your mission bid you farewell to enjoy eternal bliss. We look beyond our pain and present sadness with faith that you will intercede for us in heaven. In the words of St. Paul, You have fought the fight ,You have finished the race, You have kept the faith. (Timothy 4:7)
So, rest in peace dear loved one
And thanks for all you were to each of us
We pray that God give you
The crown of eternal glory
Your vacant place no one can fill
We miss you now and always.
May your soul rest in Peace. Amen