SENIOR YOUNG PROFESSED SEMINAR
14, 15 &16th OF APRIL 2023
VISAKHAPATNAM PRIVINCE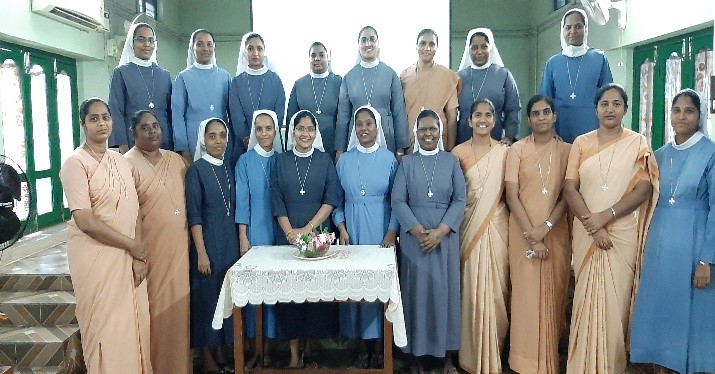 We the senior young professed batches, from the years 2017 – 2021 feel very privileged to attend the three days of renewal program under the guidance and resource person of Sr. Mary Deepa. We were Nineteen of us all together. The programme commenced at Waltair, Visakhapatnam on 14-4-2023 to 16-4-2023.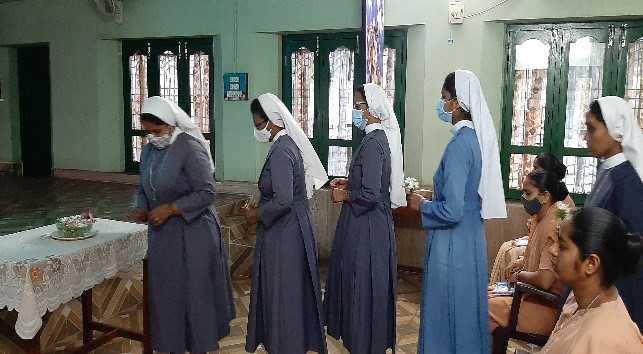 Our day began with a prayer service, which led us to the self realization that one can make great changes and bring immense joy to the people around just like a tiny drop of water to the farmer. We were also asked to place a flower in the bowl as a symbol of total our self-surrender.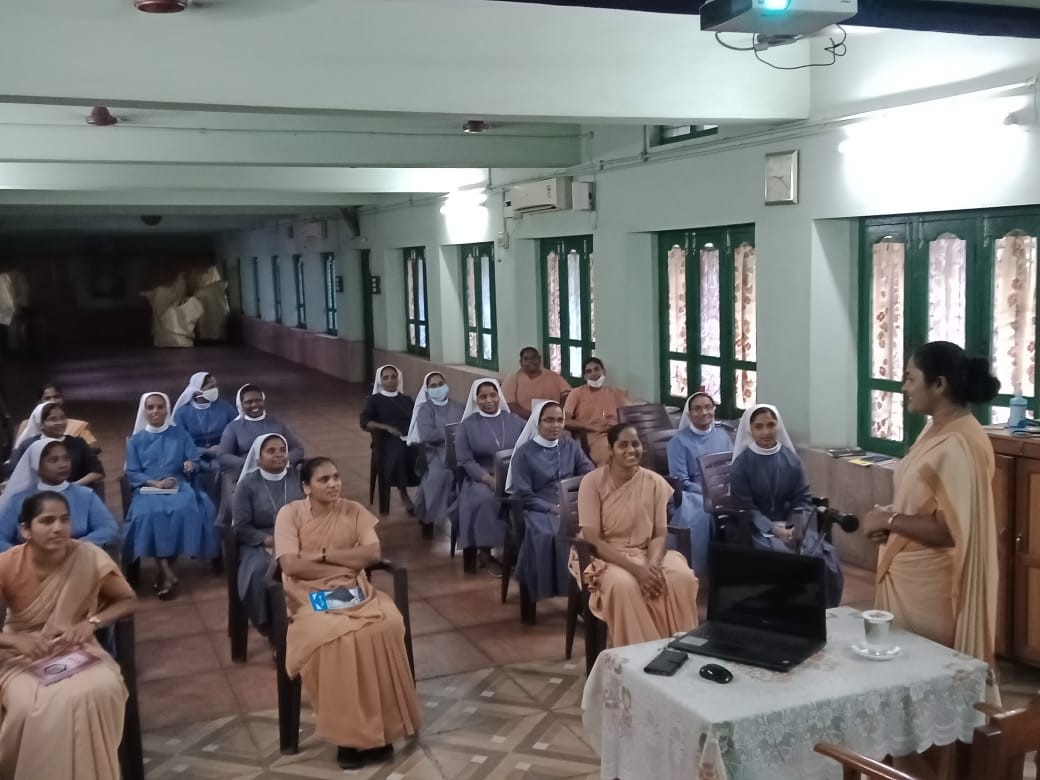 No sooner Sr. Deepa asked us to share how we have lived our resolutions, during the past two years from the last gathering. That was really inspiring and heart touching to hear from one another how each one had made a lot of efforts to reach up to that goal.
Then we were given input session on "Goal Setting" by Sr. Mary Deepa which led us to reflect on the origins of our goal and see how far we have reached.
What is goal?
A goal is a desired result that a person plans and commits to achieve. We need to set goals because
• It gives us long-term and short-term vision
• It allows us to focus on the acquisition of knowledge.
• It helps us to organise our time and resources well.
• It helps to compare our progress with our endpoint that is our "goal".
Sister began the session by asking us to share our original goal of joining the congregation that helped us to go back to the origins of our goal. Before joining the religious life, we all had only one goal that is to serve God through his people and belong to him completely. Then our young mind never knew that was our response to God's call. Day by day facing every challenge made us stronger to meet our goal. The input session led us through the importance, action plan, obstacles and practical steps to reach our goal. We were also given practical ways to face daily obstacles by drawing an action plan for a short-term goal and keeping it in a place where we can see every day, or marking in the book at the time of particular exam, remind ourself of our goals – allow ourself to dream about them, change our short-term goals if they are not working. To be realistic, but aim higher than we think we can achieve. Make sure to understand the price of reaching our goals. Recognize obstacles and avoid or eliminate them etc. We all felt very good with this Idea to check ourselves where we stand. We also explored different means we as religious could do this more effectively by Finding a person to help us reach our goal, keep up with reading the congregational texts, update yourself using all the helps given, meet with the superiors or the spiritual guides to check where we are and our mistakes. It was really an enriching and enlightening moments for us, as we all began to go back to the origins and refresh our goals to begin anew.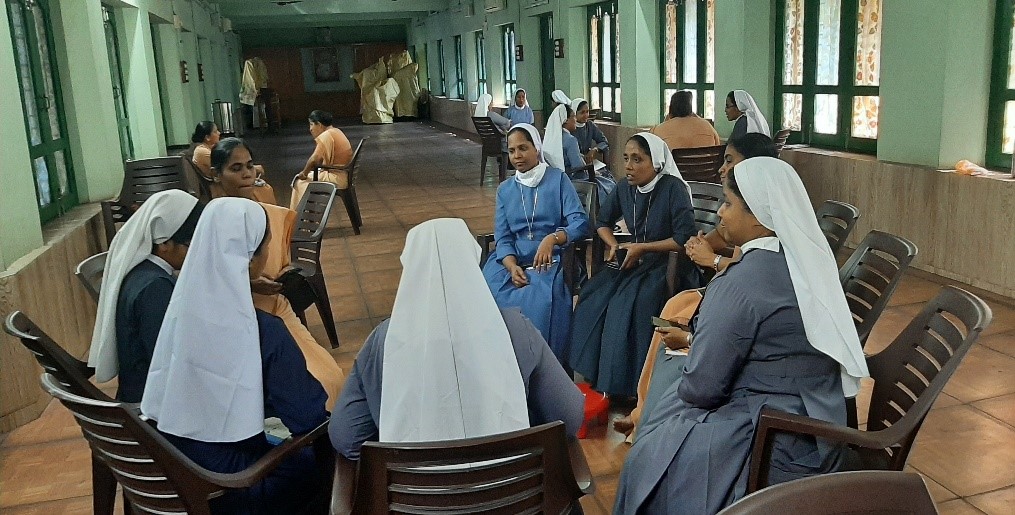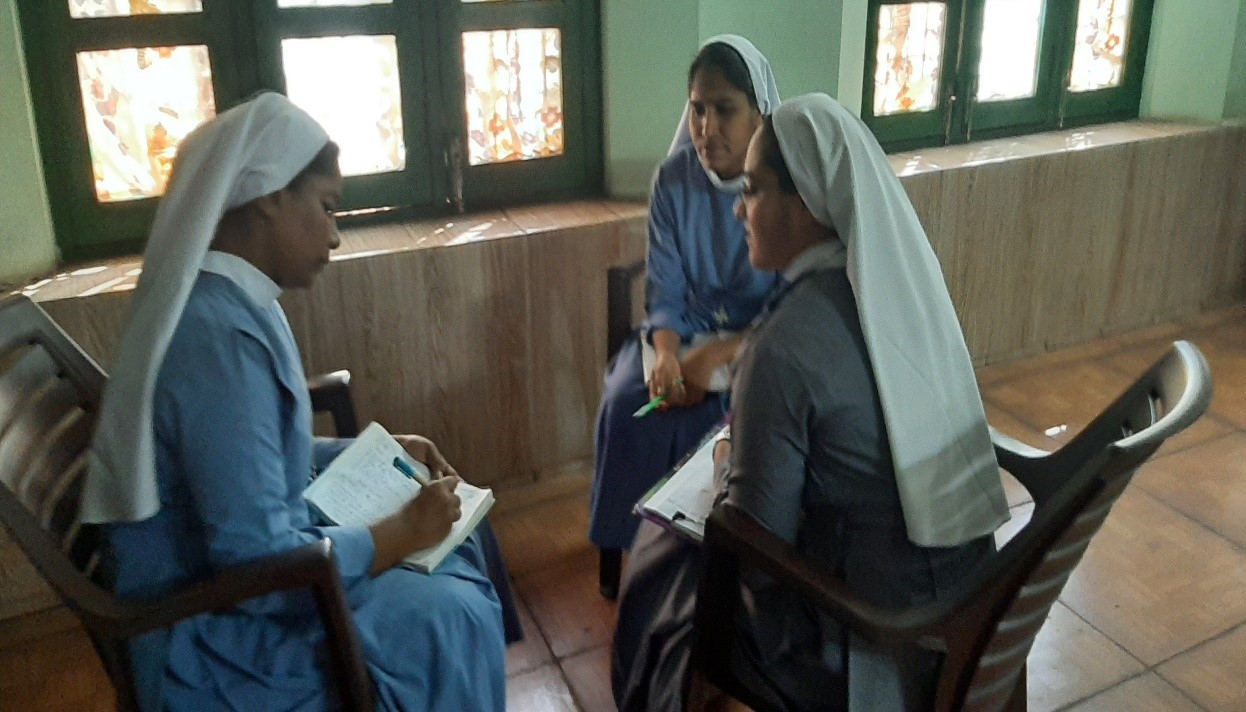 In the afternoon we were asked to share about the challenge in our life of prayer, community, vows, and the apostolate in our own batches and how we overcame those challenges, the same was presented to the presented to the whole group.
Then sister started the session on introduction to the consecrated life. We were all touched by the word "a way" of life we have freely chosen and so we are obliged to live by it. As we know any way of life, we choose we need to live according to it and do justice to it. Then "I" make my vows so I alone am accountable to God. We were left with these two words to reflect on which paved way to many answers.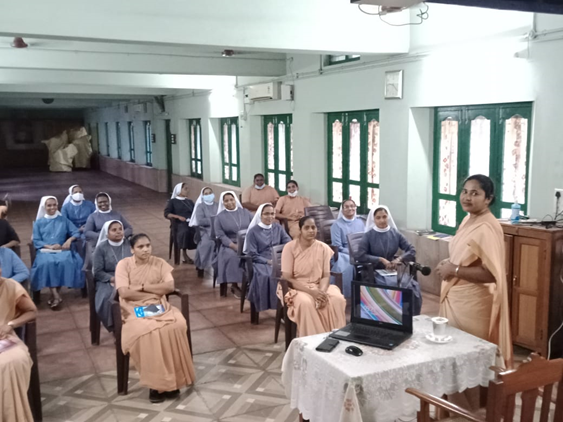 The next day we began our session as usual at 9am on the vows. In connection to it sister enlightened us on "Loneliness" what is it and how to deal with it. Loneliness is a reality which everyone faces in one or the other stage of life. This aspect of our life makes one depressed, unsatisfied and unhappy. We also were made aware of its dangerous such as over possessiveness in relationships, unfair demand for time, affection, for exclusiveness from others, compulsive talkers, impose themselves on others, pleasers, cannot attain depth, hardened and desensitized, divided within, self-doubts, pulled in many directions and loose direction in Life--- drifters, lack of self- awareness, live in the past or the future, cling on to people, things, objects including 'worship', cannot make the inward journey, cannot live the "Present"- "THE" NOW", live More in fantasy than reality, live in Mediocrity and boredom , don't take responsibility for one's life, blame others for one's misfortune, run from themselves. But this can never take control of us if we are aware and deal with it at the right time. The moment we are aware that we are feeling lonely we need to take control of our situation like don't run away from your loneliness, don't dwell on it or brood over it, find its source. Identify the place from which or from where these feelings emerge. Search with your heart without fear (anxiety). Listen to your loneliness. The pain of your loneliness may be rooted in your deepest call. changing the environment, talking to a friend, engage in reading a good book, listening music, and just sitting Infront of the Lord in complete surrender. This would surely make us feel better. This also will lead to aloneness. Aloneness to solitude. Then we continued with the vows in detail, one by one.
We were asked to reflect upon the questions and asked to share with our groups.
1. How happy are you with your way of living vows of Chastity, Poverty and Obedience?
2.Do you think you need to grow still? If so, which are the areas you need to grow?
This made us investigate our lives and be grateful to God for this gratuitous gift of religious life. This also made us to think how careful, responsible, witnessing and demanding our life is. Yes, we were able draw a picture of certain aspects where we still need to grow. We also made personal resolutions to journey towards our growth.
On the 3rd day we continued the input session on "Religious Life" with reference to the Congregational Texts and personal experiences.
After this session we were led to reflect and discuss on few questions like
• Do most religious appear joyful and loving? If yes/ If No Why?
Most of us agreed to say "yes," most of religious appear joyful because we feel, this life is a special gift, and so happy, contented, and able to show the perfect love of God.
And some of us said "no," because no proper understanding of life, comparing with one another, power conscious, seeking for name and fame for every little action we do andselfish agendas.
Then we looked into how we can be effective in our prayer, community, and apostolic life from the spiritual directory and constitutions. In the last session we have exchanged our thoughts and plans for the upcoming days to grow better and build a strong future for oneself and the congregation. And so we came up with personal resolutions for the year with our own conviction to grow better, such as:
• To keep my goal utmost in my mind and strive towards it every moment
• "I" have freely chosen this way of life and "I" alone am responsible and accountable and so I live it to the full
• Living constantly in the presence of God,
• Talking to him every time
• Being generous in the community
• Being available for the person and community needs etc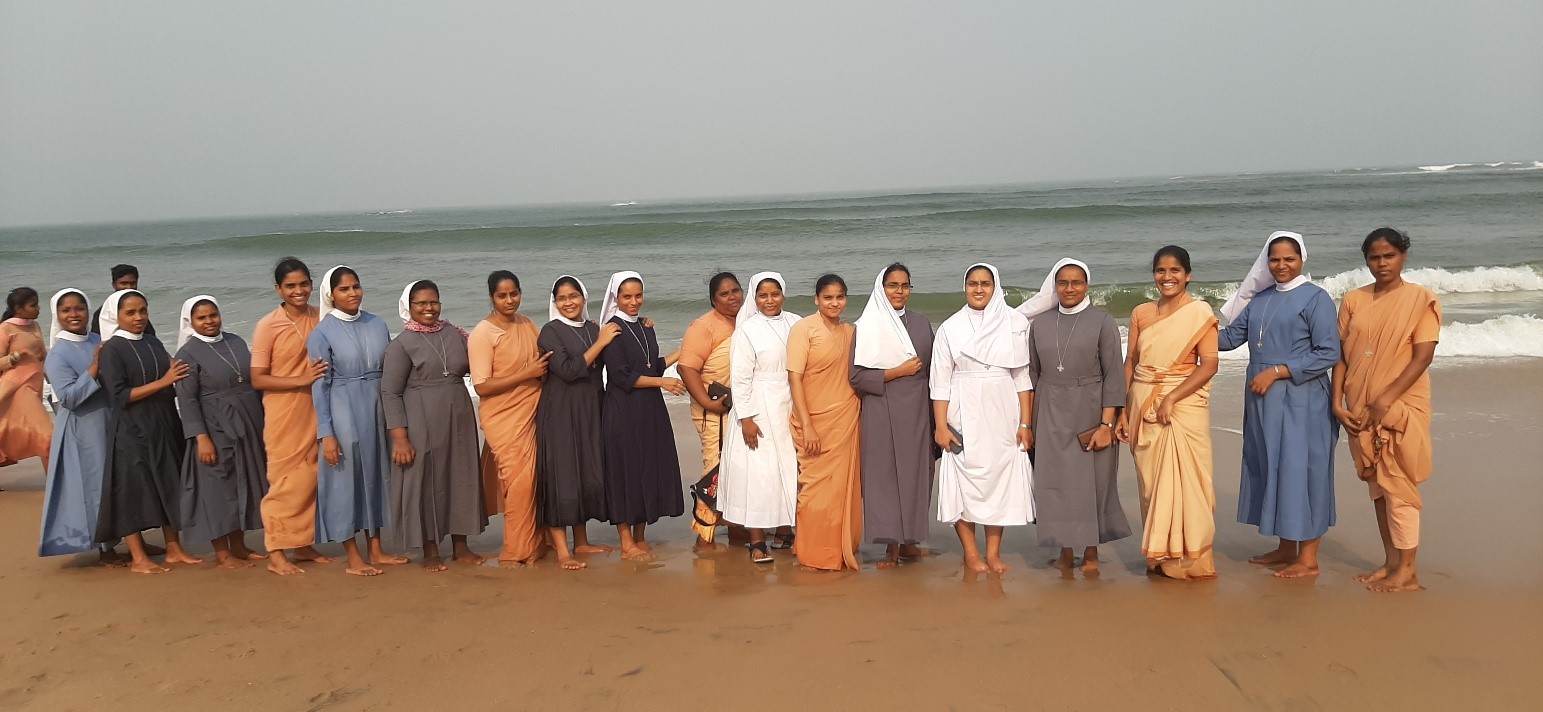 Then after lunch we had an outing for relaxation and share the joy of meeting our companions and everyone with whom we lived, shared same formation. That was a great day to recall back our formation days.
Then on 17th we all dispersed to our own communities with lot of positive vibes to bring blessings to our communities and the places where we are in.
We are all grateful to Sr. Rose and Sr. Mary Deepa who gave us this grace filled days to refresh and rejuvenate our religious life.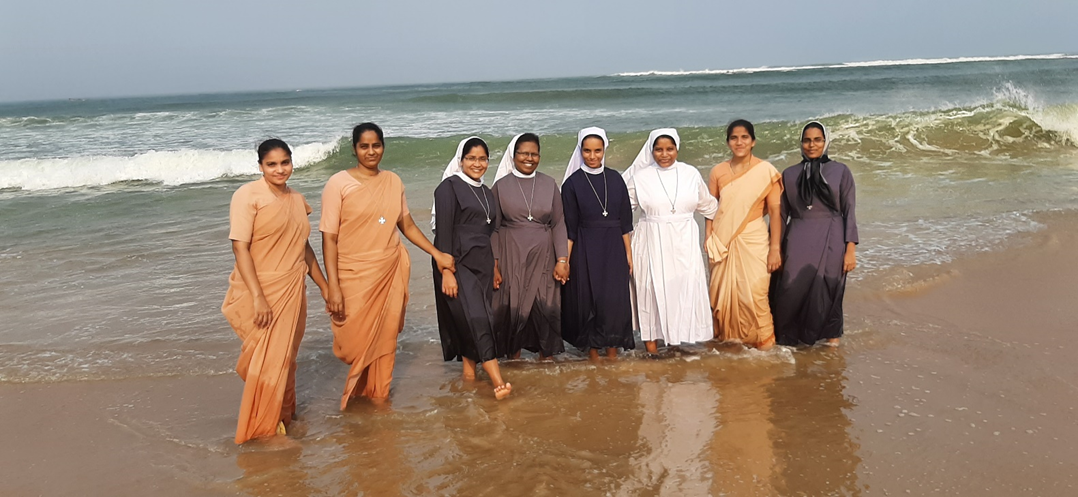 Thank you