An Account of the Mass celebrated in Llantarnam Abbey Chapel on 29/4/2023 on the Feast of St. Catherine of Siena
As part of our local parish of Our Lady and St. David's, it was felt appropriate that we, the community at Llantarnam Abbey would host a celebratory Mass and invite the Parish priest, Fr. Daniel Stanton, Fr. Peter Mc Laren our chaplain here at Llantarnam and the parishioners to attend. This would honour our long association with the people of Cwmbran and surrounding areas and provide an opportunity to recall and re-connect with our Past, Present and Future in terms of History, Mission and Relationships.
It is significant that the date chosen happened to be the Feast of Saint Catherine of Siena – a Doctor of the Church, a great visionary and a woman who said in relation to one's call or vocation in life: "Be who God meant you to be and you will set the world on fire". Another seeming coincidence was the fact that this celebration was taking place on the eve of Good Shepherd or Vocation Sunday when the people of God are encouraged to listen to the voice of the Lord in terms of their own individual vocation in life – whatever that vocation happens to be.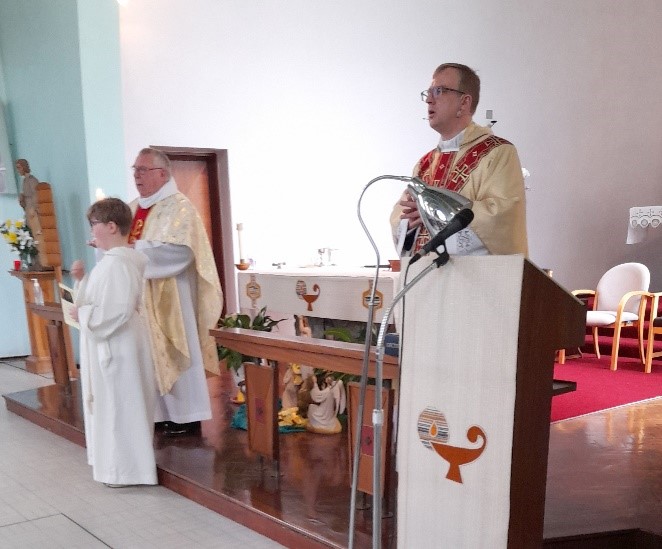 The day dawned sunny and bright. Mass was scheduled for 10.30 a.m. and from 9.30 a.m. people began to gather in our well decorated chapel – a sacred space familiar to all the participants, a place steeped in much prayer, celebration and history – built on the site of a Cistercian monastery, whose fascinating history began over eight centuries ago. At 10.30 a.m. the chapel was packed to capacity with as much extra seating as possible provided.
Our priests and altar server processed in during the Processional Hymn, dedicated to St. Catherine of Siena and beautifully played by the organist Andrew Butcher. Sr. Susan introduced the occasion, extended a warm welcome to everyone and briefly outlined the purpose and context of the special celebration in terms of past, present and future.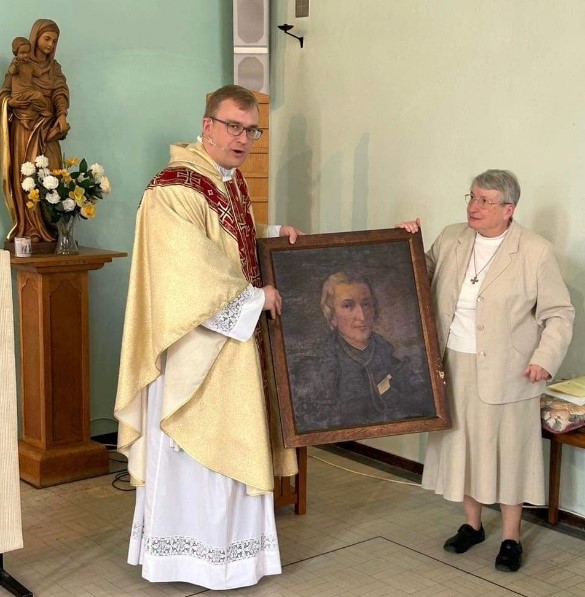 Father's sharing of the Word, drew together many threads – the history of Llantarnam and our place in it, the need to express gratitude and acknowledge our Sisters' great contribution in this area since 1946 in terms of witness and mission and in paricular their relationships with people in the surrounding areas. He commented on a certain sense of continuity with the English and Welsh martyrs in terms of St. David Lewis's connection with Llantarnam, the Cistercians and our former Sisters and deceased contacts. He brought all of this into the present by alluding to the fact that day by day, in our ordinary relationships, we continue to write and interweave the stories of our lives with all God's people wherever we are missioned.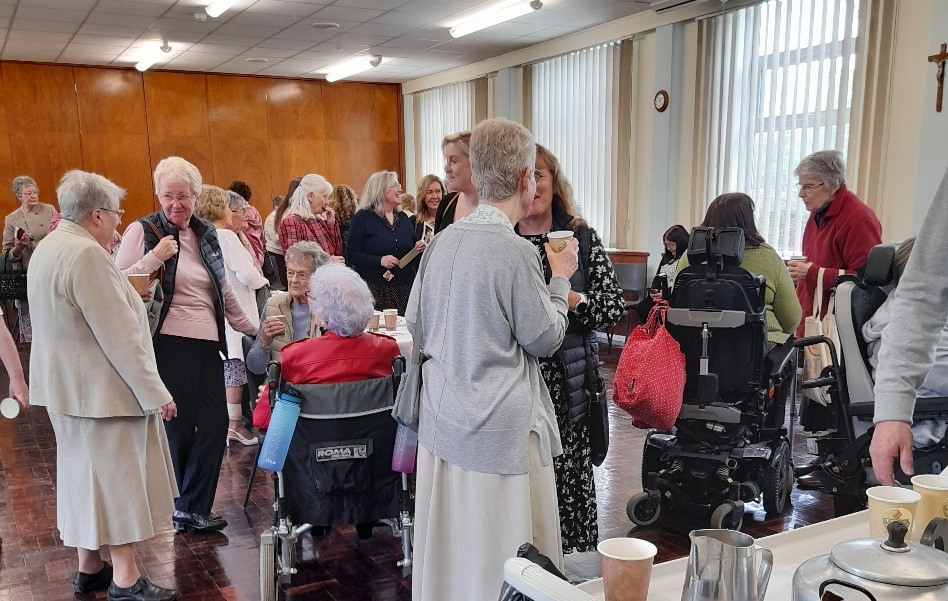 Mass continued with good music and congregational participation and ended with us singing the Regina Caeli.
At the end of Mass, Fr. Peter spoke of the influence of the Sisters on his conversion to Roman Catholicism and his vocation to the Deaconate naming especially Sr. Celsus.
A moving handing over of the relic and picture of St. David Lewis by Sr. Susan to Fr. Daniel at the end of Mass was a reminder that each one of us carries within us the priceless gift of faith – a gift which each one of us, in our own unique way tries to share with others wherever we happen to be.
Tea/Coffee and light refreshments were available after Mass and many people took time to stop, chat, reminisce by going down Memory Lane.
People greatly appreciated this opportunity to celebrate, to express gratitude and to wish us well in our future.
It seems apt to end this account by using a text received after the event. (permission to use having been granted by the writer)
"Celebrating our final Mass at Llantarnam Abbey on 29th April, feast of Saint Catherine of Siena was such a wonderful spiritual and inspirational event, surrounded by the Sisters and many friends in the chapel. It was joyous, yet tinged with sadness, realising that this was the end of an era spanning hundreds of years. The atmosphere was charged with emotion and many shared their appreciation for the gifts and talents of the Sisters who had worked diligently and truly enriched our lives in so many ways. The love, support and kindness enshrined in the work of the Sisters will never be forgotten. We go forward with them, safe in the hands of the Lord, in the knowledge that we all have a unique role in life. It was a privilege to be there on this great occasion. The Sisters have been a significant part of our lives for over 50 years, sharing our joys and sorrows. I felt elated that it was such a gathering - friends, like minded souls, celebrating and giving thanks".