English Province Weekend Gathering at Llantarnam Abbey March 2023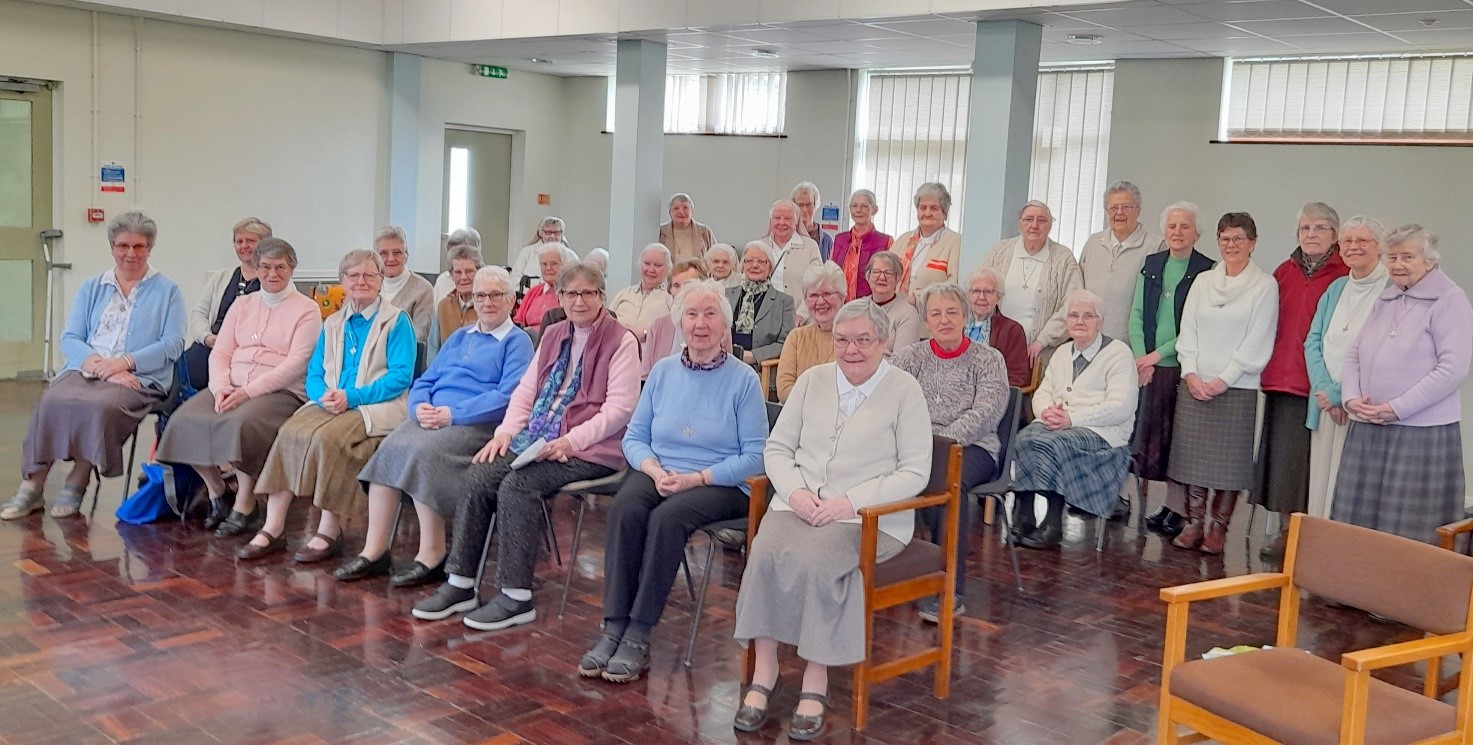 The Sisters of the English Province gathered in Llantarnam Abbey during the weekend 11th and 12th of March. It would be our last Province weekend in the Abbey and as such marked the changes and challenges which the Province is facing and the realisation that the Abbey will no longer be ours by the Autumn. We all realise the challenges, the inevitable changes with all that is entailed. What might have been a weekend of great tension and sorrow was, in reality, an uplifting weekend helped in no small measure by the very calm and open presentation by Sr. Susan. This engendered a sense of confidence and well-being, allowing us to participate in a meaningful way.
The day began with Mass celebrated by the Vicar for Religious, Fr. Matthew Carney O.S.B.
The first task of the day was the revision of the statutes. Since these had last been revised in 2012 there were many suggestions for amendment and updating promoting lively discussion. This session helped us to revisit the statutes making them more relevant to our present circumstances. This work took most of the morning as there were plenty of ideas and suggestions which will be followed through by the Council, aided by small groups of Sisters.
We then had the opportunity to chat over a delicious lunch followed by a brief look at Province representation at the General Chapter.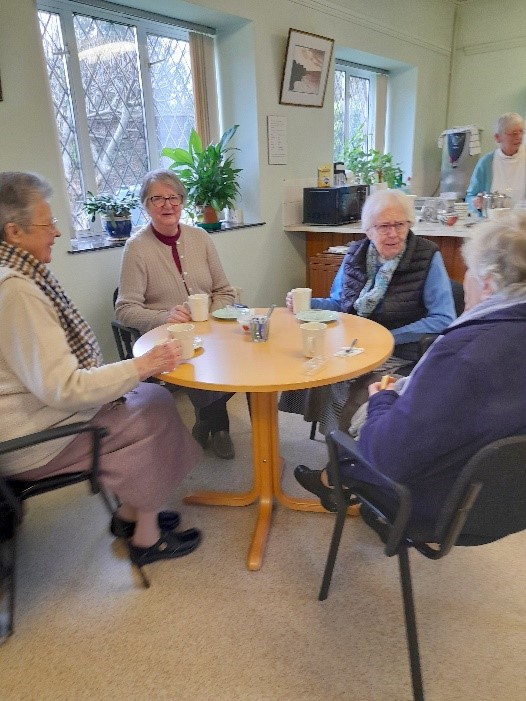 Sr. Marianne then gave an informative presentation on a new approach to healthcare. It was enlightening for many of us to hear about her massage and scarwork and to learn how people are helped to achieve their full potential perhaps after surgery or long-term sickness. Sister also explained in a very clear way the need for basic healthcare information for each sister. This should enable the right treatment for everyone as well as providing the correct information in cases of emergency. In addition, Sister would be available for help and advice for example registering with a new GP, or access to complementary services in the NHS. Having a health care coordinator gives each sister a sense of security and well-being and is greatly welcomed especially in our present circumstances.
Sr. Monica led us very enthusiastically through the idea of Little Design Communities explaining how close they were to Father Medaille's original inspiration. Such communities are formed after members have received a thorough grounding in Medaille spirituality. Without such formation it would be difficult to understand the Eucharistic letter which is at the heart of the Little Design communities. Personal approach to people whom we think maybe called to live this spirituality is the best way forward. The Little Design communities have no rules other than a commitment to prayer and to sharing with one another about their understanding and insights always respecting confidentiality. As a Province we may wish to undertake the project of enabling Little Design communities to flourish. This could be our legacy even when our more active apostolate is lessened.
The day finished with a welcome "cuppa" in Ty Croeso and we went our separate ways, anticipating the day ahead which again did not disappoint.
Sunday Mass in the Chapel was celebrated by Fr Peter McClaren. The Gospel of the Samaritan woman at the well seemed so very appropriate as we search for the living water to refresh our lives. Gently and with great peace and openness, Sr. Susan talked us through the various changes we have already encountered over the past few years, - Killorglin, Mottingham, Devizes, Rainham - acknowledging the pain and challenges these have brought in their wake and then the big challenge of the Abbey.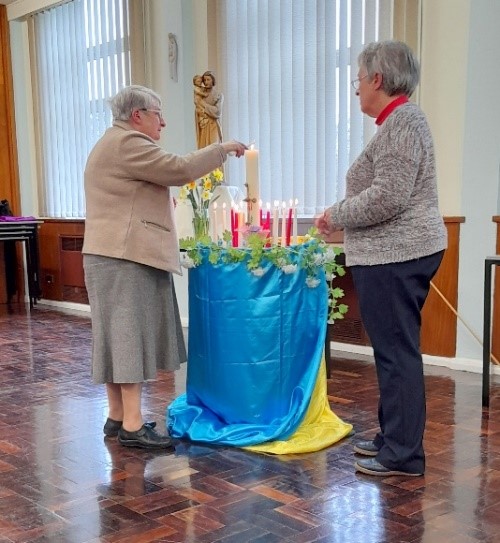 While we have known for a good number of years that the day would come, the sense of being together in the turmoil and change was a great strength. So much is being done to facilitate our future well-being and sense of mission. The sensitive way in which future plans were explained, was both uplifting and heartening.
The new communities then spent time together in their various groups to share hopes and dreams for the future. North Lodge, Tonypandy and Rumney came together for support and sharing, making plans for closer links between the three groups. As we returned to the library after this time of interaction there seemed to be a great deal of life, energy and mutual support as well as gratitude for all that Sr Susan and her team have achieved on our behalf.
The morning left us ready to enjoy to a celebratory meal beautifully prepared and much appreciated.
We then turned to more weighty matters as Sr Maureen gave a concise explanation of the various updates in the Safeguarding policy. Communities will receive a copy of this. Some training will be arranged, as well as a review of what training sisters have already undertaken.
Following from this, there was time for discussion in small groups with an opportunity to feed back to the main group. There was lively discussion and several points of major importance were raised such as provision for Retreats, Confessions, Holidays etc. These will all be taken into consideration over the next weeks and months.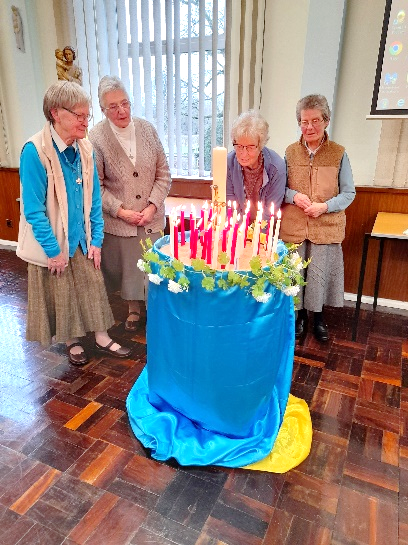 The weekend moved to its close with a very meaningful prayer ritual prepared by Sr. Henrietta and Sr. Bridget, during which each sister was given a candle with a short phrase attached to it. We were asked to spend a few moments reflecting on the phrases which included such thoughts as, "Your best is always good enough", "Cherish your possibilities". In our time we were invited to light our candle and share a brief thought from our personal reflection or simply read out the phrase on our candle. This was a quiet and gentle way of giving each sister a voice and brought us prayerfully to the close of what sisters described as a wonderful, meaningful and uplifting weekend. We know there will be changes and hiccoughs along the way but there was strength and energy which will enable to us to carry out our mission and live out our vocation no matter what the circumstances and for this we can only be grateful.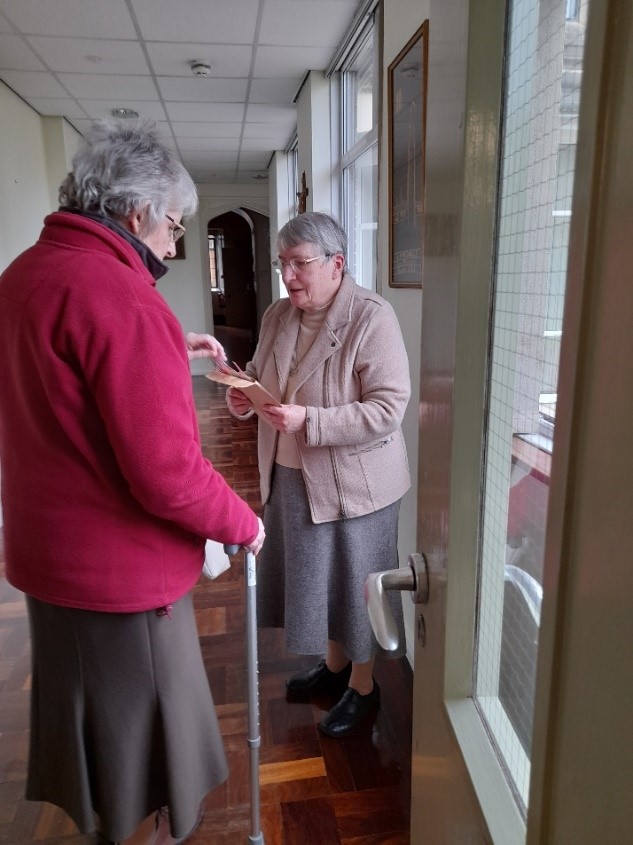 As we left the meeting room Sr. Susan had a personal word of farewell for each Sister which was a beautiful way to end the weekend which, in the words of one sister, "brought out the very best of what it means to be a Sister of St Joseph".