FEAST OF ST. JOSEPH
19.03.2022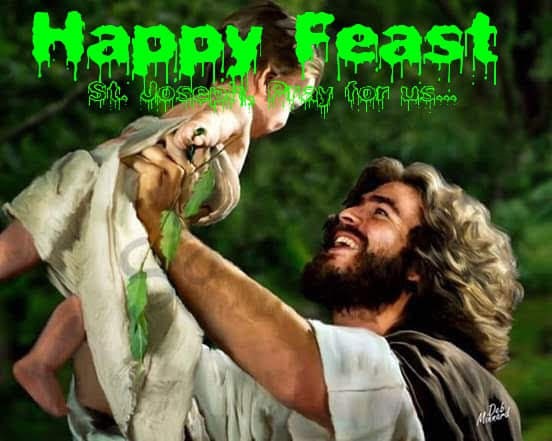 Dear Sisters,
I would like to take this opportunity to wish each one of you a blessed feast of St. Joseph our Patron and the patron of the Universal Church. .In December we came to the end of a year dedicated to St. Joseph by Pope Francis. The Holy Father wrote a special Apostolic Letter, Patris Corde which spoke about all aspects of the life of St. Joseph. It highlighted "the creative courage" of St. Joseph, which "emerges especially in the way we deal with difficulties." "The carpenter of Nazareth," explains the Pope, was able to turn a problem into a possibility by trusting in divine providence."
Though we are in the season of Lent, The feast of St. Joseph is celebrated with solemnity. Our founder, Fr. Medaille, asked us to prepare for the feast of St. Joseph by making three days of recollection. The focus of this preparation was "to obtain his continued protection and the progress of his humble congregation in the greatest love." (Spiritual Directory). In 1650, our Founder had placed our Congregation under the protection of St. Joseph. "The Congregation is to carry out its mission by an attentiveness which Fr. Medaille intended should be characterised by that "perfect and cordial charity "with which Joseph cared for Jesus and Mary. That is why he placed his "Little Design" under the protection of that great saint." (Constitutions Page 10.)
In this letter I want to focus on Joseph the man of dreams. St. Joseph never saw an angel the way Mary did, clear as day, with her waking eyes. He never saw the burning bush or heard the thunderous voice of God, "I am who I am." St. Joseph only heard God in the quietest of ways. He often only heard God when he was asleep.
We know about four dreams of St. Joseph: In the first he learns about Mary's pregnancy and he is told 'not to be afraid' to take her as his wife. In the second, he is told to leave Bethlehem and flee to Egypt. While in Egypt, he has a third dream where he learns that it is safe to return to Israel. Finally, he dreams a fourth dream: he is again warned of danger and travels to Galilee instead of back to Judea.
There is no record of St. Joseph speaking in the bible but he acts on his dreams. With only the certainty of a dream, he leads his small family across deserts and foreign lands to safety. He acts with conviction, though we know he was afraid (Joseph, do not be afraid). We can imagine the scenes we are not told about during 'the lost years' of Jesus's childhood. Hours in the carpentry shop, St. Joseph teaching his young, adoptive son about patience, about how to build the things that last, that are strong.
What do we learn from St. Joseph's dreams? We learn that God can speak, powerfully and attentively, when our busy, conscious minds are slowed down, or turned off completely. God speaks in ways that can seem absurd in the light of day. Perhaps He needs the strangeness of dreams to teach us something about stories, about the truths that lie just beyond the realm of reason. We learn from St. Joseph that we can trust, even when we are afraid. We learn that just because someone is silent does not mean they are not, at this very moment, taking courageous actions of great love.
Many of us find ourselves in a strange state of limbo these days with the presence of this virus in its many forms. St. Peter's Basilica is empty of the usual crowds and an eerie quiet has descended on St. Peter's Square. Masses in our Cathedrals and churches have been stopped at times, and even restricted in numbers.
During Lent we were told "you are ashes and to ashes you will return." We were told 'you are going to die.' Today, with this strange, illusive virus spreading around the globe, we are hearing the same thing. We are mortal, we are vulnerable. We are asked to stay home, to wait, to hope, to pray. We are asked to protect the weakest members of our society with our passiveness, with our willingness to stay still.
St. Joseph could not be a more perfect example and intercessor for this moment of quiet trust. A saint whose voice we never heard. A saint who saw angels only while he slept, still and unaware. We live in a noisy world. There are many opportunities for deafening conversation, but few opportunities for silence and listening. This is a moment to dream. Circumstances have forced us to slow down, to be still and to be aware.
Let this moment of forced slowness allow us to dream. Let St. Joseph teach us the beauty of being quiet, of listening, and let his quiet courage be an example to us all in this odd and frightening moment in history. A few years ago, during his trip to the Philippines, Pope Francis spoke about a particular statue: that of St. Joseph, lying on his side, fast asleep. Pope Francis said" "I like St. Joseph very much. He's a strong man of silence. On my desk, I have an image of St. Joseph sleeping. Even when he is asleep, he looks after the Church. Yes! We know that he can do that," Pope Francis said during an address in the Philippines on "So when I have a problem, a difficulty, I write a little note, and I put it underneath St. Joseph, so that he can dream about it! In other words, I tell him: Pray for this problem!" he added. This statue shows Joseph in a vulnerable position. He worked hard and got tired and needed to rest. This was often when God chose to speak to him. St. Joseph responded to his dreams — by rising and doing as God had asked — shows that he was a man who was willing to do the will of God immediately: "Those precious moments of repose, of resting with the Lord in prayer, are moments we might wish to prolong. But like St. Joseph, once we have heard God's voice, we must get up and act."
In our busy world it is often noisy with conversations and general background music and voices. How often do we choose to be quiet, reflective and attentive? Or do we escape into the constant noise that surrounds us? How often does God try to speak to our hearts but we are distracted by other things and miss the moment? Joseph is an example of the silent saint. He was in tune with Gods will both in his dreams and in his silence. Why is silence important in our spiritual life? Silence is the opportunity to listen to our life. It is like bird watching, you don't go searching for birds, you go and sit and wait for them to appear. It is the waiting in the quiet that actually feeds our soul. It is paying attention to our life, that is the ultimate goal of the spiritual journey.
In more recent times, Martin Luther King spoke passionately about his vision for a better tomorrow when he said: "I have a dream today . . . I have a dream that one day every valley shall be exalted, every hill and mountain shall be made low. The rough places will be made plain, and the crooked places will be made straight. And the glory of the Lord shall be revealed, and all flesh shall see it together."….. I dream that America will finally live up to the words of the Founders: "that all are created equal. I dream that white people and black people will be able to sit down together as equals and Mississippi will be turned from a hotbed of injustice to a land of freedom. I dream that in the future, people will not be judged by the colour of their skin but by who they are as individuals, and that Alabama will be a place where White and Black children can join hands together." Martin Luther King was assassinated and didn't live to see his dream realised, but his dream changed the course of history in our time. Like St. Joseph, he believed in the dream and believed it was possible.
As recently as January 2022, our Sisters from around the world gathered for our Extended General Council via zoom to dream the dream for the future of our Congregation. The Orientations from the last General Chapter were studied and reflected upon, each one holding as precious the future direction of the Congregation and what it is that we need to do, in order to bring Fr. Medaille's dream to fruition. So Joseph shows us how to trust Gods will made known to us in our in between moments and in our silence. We are challenged to trust our quiet reflective moments, to be caring and compassionate and to be attuned to the dream of God for His world.
May St. Joseph on this special feast of our Congregation, watch over each of us as we dream and may we have the courage and strength to respond and to recognise God's voice in us.
With every blessing and prayer,
Sr. Breda
.
.