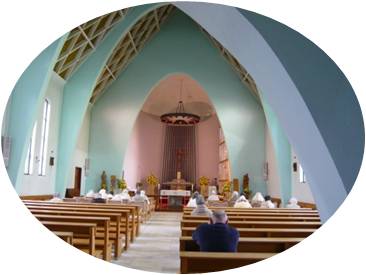 In the summer of 1864, two Sisters of St Joseph of Annecy set out on the long and arduous voyage from India to the UK to open our first community here. Now 150 years later, two of our Indian Sisters made that same journey to be with us as we celebrated at a Jubilee Mass in Llantarnam Abbey on 15th October, rejoicing in our 150 years of presence in the UK and Ireland.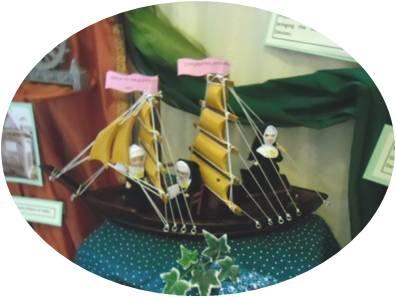 During the nine days before the Mass we were united in prayer with our Sisters worldwide as we prayed and reflected on our story from the foundation of the Congregation on 15th October 1650 in Le Puy in France, through to the present day. This story was displayed visually at the back of the Chapel so that the many visitors who joined us that day could have a glimpse of our fascinating history and we ourselves could recall different moments of that story. Our Indian Sisters brought us a replica of the ship on which those early Sisters set sail from India and that took pride of place in the display. A pair of old shoes beside a milestone recalled the many miles our early Sisters walked each week to give catechism classes, while the mini-school room reminded us of the emphasis placed on basic education.
The Jubilee Mass was concelebrated by Archbishop George Stack and 15 priests, all connected in some way with our life, growth and development here in the UK. We were joined by Sr. Pauline, our Superior General, and her Council, as well as representatives from our Sisters in France, India and Africa. A large number of our Associates were also present together with friends and co-workers. After the Opening Hymn and introduction which recalled our history, Sr. Pauline carried a specially decorated candle to the altar symbolising the journey of our Sisters from India to the UK. Sr. Benedicta, Provincial Superior, brought forward the Book of Remembrance, containing the names of the 242 deceased Sisters who have served in our Province since 1864. Our Constitutions and a Profession Crucifix were brought forward by Sr. Marie Louise from France, and by Sr. Genevieve currently in Devizes - home to our first community.
In his Homily referring both to the writings of our founder, Fr. Jean-Pierre Médaille S.J. and to the reflections of Pope Francois, the Archbishop reminded us that our self-emptying in imitation of Christ "is not a deprivation or lack of anything. It doesn't leave a vacuum or hollowness but is a fertile place where the breath of God's love is experienced and therefore shared." It is this which gives us cause for rejoicing.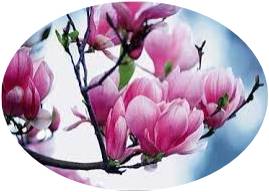 At the end of Mass, Sr. Pauline presented the Province with a magnolia tree to mark the occasion. This has now been planted in the Abbey garden. Afterwards, everyone joined in a buffet meal and it was a chance for all of us to share, remember and rejoice.
As the Archbishop remarked in his homily, what we celebrate now in 2014 is not just chronological or passing time but the time of opportunity, of the grace of the moment, of God's time and God's work in and through us. For us it was a wonderful occasion and we pray that the joy we have received and celebrated may continue to radiate for at least the next 150 years in loving service of God and the people of God.