Meeting at Chambery: August 30 to September 2, 2018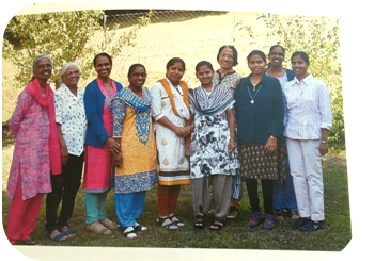 We ten Indian sisters, LAC, daughters of Fr. Medaille attended a meeting with the sisters in Chambery. We were met at the convent entrance, with shouts of joy and made welcome to the community, in Bellecombette, of our sisters of Chambery. This gathering had been organized to allow us to reflect on our mission in France. We discussed and shared our different situations as we listened and supported each other in telling our stories. We felt an atmosphere of family unity which enabled us to trust and openly share our thoughts, ideas and missionary experiences. This sharing was very rewarding and encouraging. The three days were rich in group sharing, guided prayer, discussions, cultural programs, and evaluations. Sr. Jona greatly supported us throughout these three days.
From the morning of the first day, the rich input of Sr. Marie Pierre Ruche on the history of the French Federation gave us renewed energy. In a very simple way, from her own experience, she told us our common foundation story that it challenged us to become the seed that has been planted today. She inspired us to take on the responsibility for today as we now continue the work begun so long ago. We too must now bear fruit so that it produces 30, 60 or 100-fold.
We visited our SJC museum of memories under the guidance of Sr Agnes Moussière. This truly excited us and gave us the desire to follow our early sisters 'example and so adapt our lives to become today missionaries in France. We were also full of admiration for our pioneer sisters who were led by the Spirit to go out to different countries to experience of Fr. Yann Vagneux in India. His sharing was an inspiration to us all to share our charism of love and service. We also had the privilege of listening to the missionaries.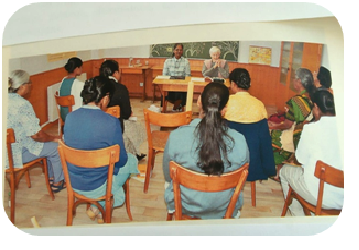 The cultural afternoon was spent at the 'Clos St Joseph" where our elderly sisters reside. It was a joy to spend time with them. Our group was very keen and attentive to listen to these older sisters' sharing. We felt abundantly blessed to have this opportunity to meet them for the first time.
Each of us had sufficient time to share our learning experiences and how the meeting had motivated us by the challenges, surprises and even some shocks, too, along the way! Our sincere thanks go to Sr Jona, Sr. Marie Claire, Sr Marie Louise and their advisors for the initiative taken to organize this LAC meeting for us Indian missionary sisters in France. We appreciated their availability and their commitment to our mission in France.
The joyful learning of our meeting continues to influence us in our daily lives.
Sr Tessy, Sr Anna and Sr Anila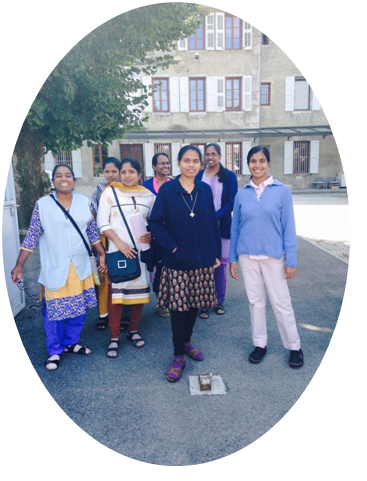 .