Vocations Weekend
at the Parish of Saint-Maurice of Notre Dame de Valère.
"Jesus said to his disciples: "The harvest is plentiful, but the labourers are few. Therefore, pray the Lord of the harvest to send out workers into his harvest." (Mt. 16.18) To implement this invitation of Jesus, the diocese of Sion organised a walk for vocations open to all. It took place on the 8th and 9th September 2018. We were around 30 participants altogether. There were priests, monks, novices and lay people.
Along the way, the priests stayed with us to support us with their presence. The pilgrimage began with an opening Mass at the Abbey of St-Maurice where 32 priests concelebrated. It was impressive! Then we prayed at the tomb of Saint Maurice before continuing our pilgrimage. The 1st stop, for us walkers was at Verolliez, the place where St Maurice and his companions were martyred.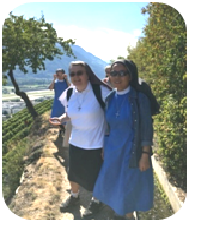 Then we continued along the Rhone River up to Fully. On Saturday night, we had a vigil of prayer with time for adoration and confessions animated by the canons. Then followed a march under the stars with torches to light up our way to the village of Saillon. It was midnight when we finally got to sleep in a gym hall. The next day, we continued along the vineyards on the hillsides of the Rhone valley.
We later picnicked in the parish Hall of Vétroz, a village close to Zion. It was very hot and we were tired from the long walk in the heat. But we continued our pilgrimage journey offering our fatigue and sweat for vocations. What joy we felt when we perceived Notre Dame de Valère on the horizon! On arrival, after a 50 km walk, we finished this pilgrimage with another mass celebrated in the Basilica of Notre Dame de Valère, among many other pilgrims. With much joy and gratitude, we returned home praising God for this opportunity to respond to the call of Jesus to do our part in praying for the vocation needs of His Church today and in the future.
Sr.Anila