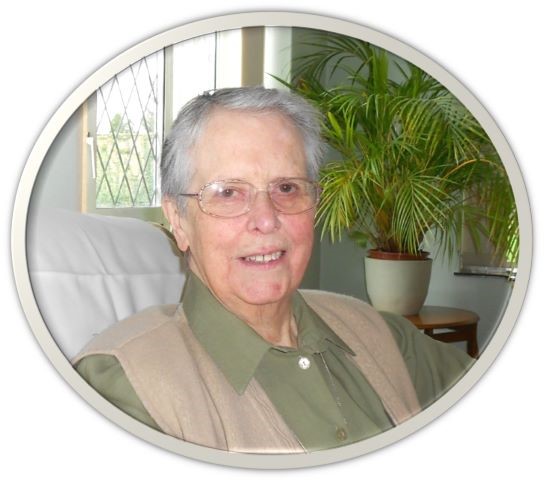 Sr. Patrick Joseph – Angela Cantwell
of Tramore, Co. Waterfod, Ireland
who died at Llantarnam Abbey
on 12th July 2022, aged 91 years, 72 of Religious Profession.
Angela Cantwell was born on 12th December 1930 at 1, Atlantic View, Tramore, Co Waterford. Over the years the house and Tramore continued to be special to her and the family. She was the daughter of John Cantwell and Brigid Veale, the fourth of eight children: Peggy, Anna, Bernie, Angela, Mary, Kay and her twin Dan (the only boy) and Bid.
According to the usual custom Angela was baptised in her local church and her faith journey began. She attended the Convent School of the Irish Sisters of Charity then at 13 years of age, she went to Clonmel Presentation Convent school.
On 8th September 1948 Angel Cantwell entered the convent of the Sisters of St. Joseph of Annecy at Stow Hill Newport and became Sr. Patrick Joseph. She made First Vows on 1st May 1950 and Final Vows on 3rd August 1953. She was committed to the Constitutions and lived her life faithfully as she had promised.
Over the years Sr. Patrick Joseph lived and worked in many places and it is impossible to capture such a full life in a few words. She studied for a Music Diploma at Cardiff University 1952-1955. Wherever she went, she lived a life of service. Whether teaching, in parish work, in retreat work, sharing her musical talent or in the service of administration, Sr. Patrick Joseph gave of herself fully.
In later years Sr. Patrick Joseph went to St. Beuno's Retreat centre and to Minsteracres to learn more about accompanying others and she engaged in Ty Croeso, our Retreat Centre, welcoming others most hospitably and giving of herself for as long as possible.
Sr. Patrick Joseph was cared for with love and devotion by the staff of St. Joseph's Wing. Her last days were lived within the restrictions needed at this time of the Covid infection. The restrictions added to the sadness as the usual community support could not be given. However, the Lord was close; He led her through this time of darkness.
Sr. Patrick Joseph loved Our Lady and prayed many a rosary. During her last journey she was accompanied closely by her own sister, Sr. Brigid. We give thanks for Sr. Patrick Joseph, who was such a wonderful example of commitment to her vocation, a true Sister of the Congregation of the Greatest Love..
She died on 12th July, 2022. May she rest in peace.