ST. JOSEPH'S GIRLS' HIGH SCHOOL, CUTTACK, ODISHA, INDIA.
SESQUICENTENNIAL:"SYMPHONY OF GRATITUDE": 14TH& 15TH DECEMBER-2022
1872-2022, a story of 150 years, I hold my head high to salute this age-old citadel of learning, unfathomed sign of fulfillment of hopes, joy and laughter. This temple with enlightened architects engineered so perfectly, dedicated, committed sculptors, modelled thousands of sculptures, holds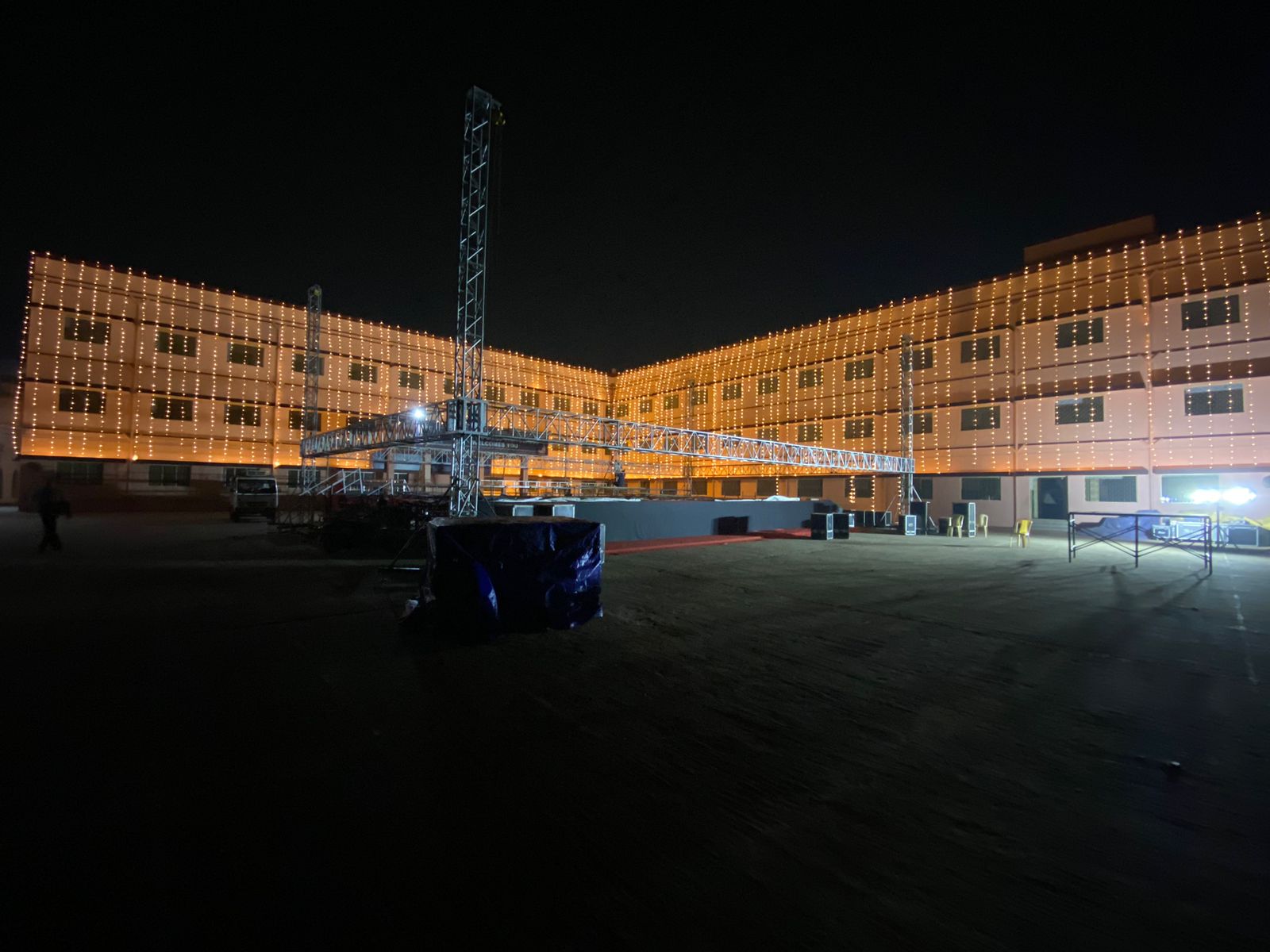 carefully the story of success and achievement, myriad of events of pain and struggle above all the Grace of God and showers of blessings.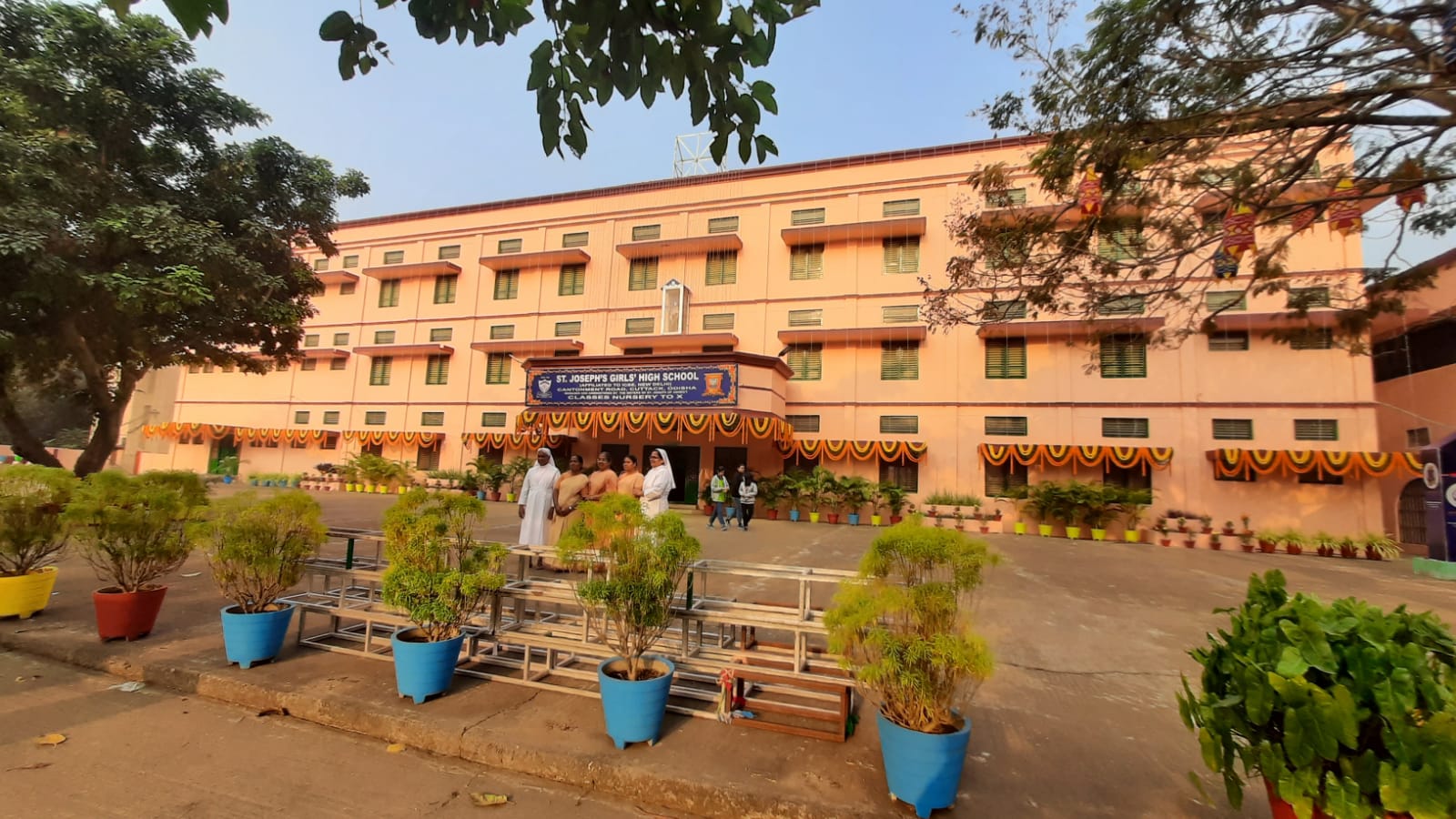 Look 150 fruitful years of journey, not just a building of brick and mortar but an oasis of nourishment, nutrified and brought forth thousands of minds, bodies and souls. This sesquicentennial journey of this holy temple has polished the uncut diamonds to reflect the light of knowledge. The song of the soul of St. Joseph's Girls' High School, Cuttack carols "I am the most fertile space on earth, have walls, windows, doors and green fields, a wonderful ground of never ceasing fertility. I sustained tiny souls to grow in brain power, wisdom, fabricated disciplined individuals and propagated most loving, generous hearts."
The sisters of St. Joseph of Annecy, the staff, students and parents raise our hearts, minds and souls to the Almighty in Symphony of Gratitude. "Symphony of Gratitude" has been the hall mark of the Sesquicentennial of this glorious, beautiful gift of God of 150 years. All who are webbed to this citadel echo the one and only rhythm "Thank You".
Jubilees are the occasions to be celebrated, to recall the marvellous ways in which the school has fulfilled its mission in imparting education, moral, spiritual values and discipline to help build leaders who will bring about a culture of peace and love which our society and country needs today. They also provide an opportunity to reflect on the past achievements of the school as well as introspect on the preparations to meet the challenges that lie ahead.
St. Joseph's Girls' High School celebrated its Sesquicentennial Jubilee this year 2022-23. The festivities included a plethora of exciting events spread over the year, making it one of the most festive and memorable periods in the history of the school.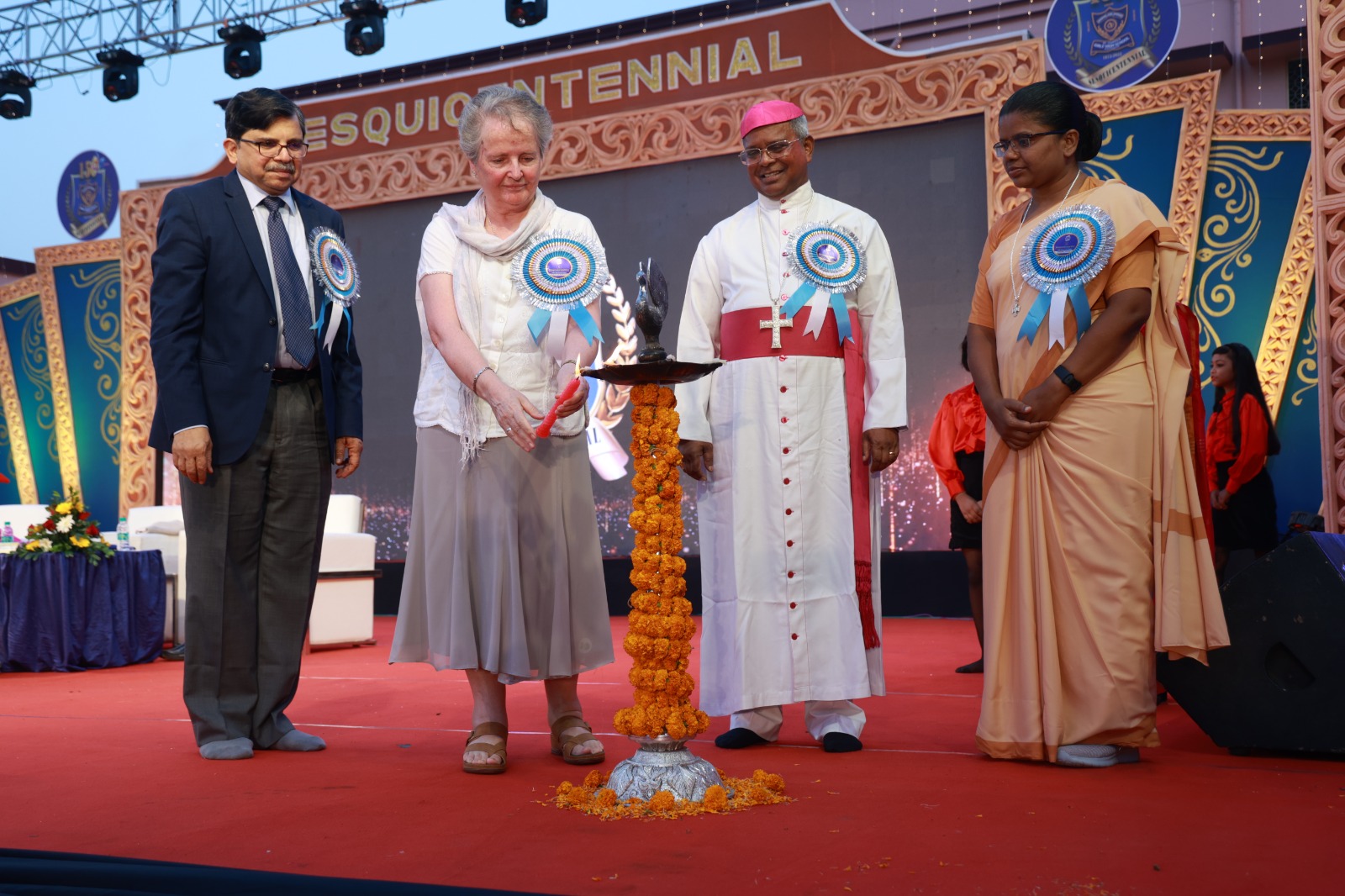 From very humble beginnings in 1872, St. Joseph's Girls' High School has grown leaps and bounds, and now stands tall and proud with impressive buildings in a symphony of peach and green equipped with the latest innovations intechnology, expansive playing fields, beautifully landscaped gardens, and a student roll of over 2200 students. The school has grown from strength to strength under the able guidance of dedicated Principals, and now occupies the place of pride in Cuttack. Talented students from the school have excelled not only in academics, but also made a mark in literary and cultural activities. St. Joseph's Girls' High School has played a central role in educating generations, many of whom have gone on to play an important role in society, whether culturally, in business or in public life." To celebrate 150 years of glories and achievements, various events were organized.
It was a day to remember very fondly and gratefully those marvellous sisters and teachers who had been instrumental in shaping this great institution. The portals of this hollowed institution have been built and nurtured over the last hundred and fifty years by the toil of numerous St. Joseph sisters and dedicated teachers, past and present above all loyal and zealous students who have been committed to live up to our motto 'Onward and Upward'. The one hundred fifty years of Josephite journey is one of faith, hope and loving service to generations of students in our city of Cuttack.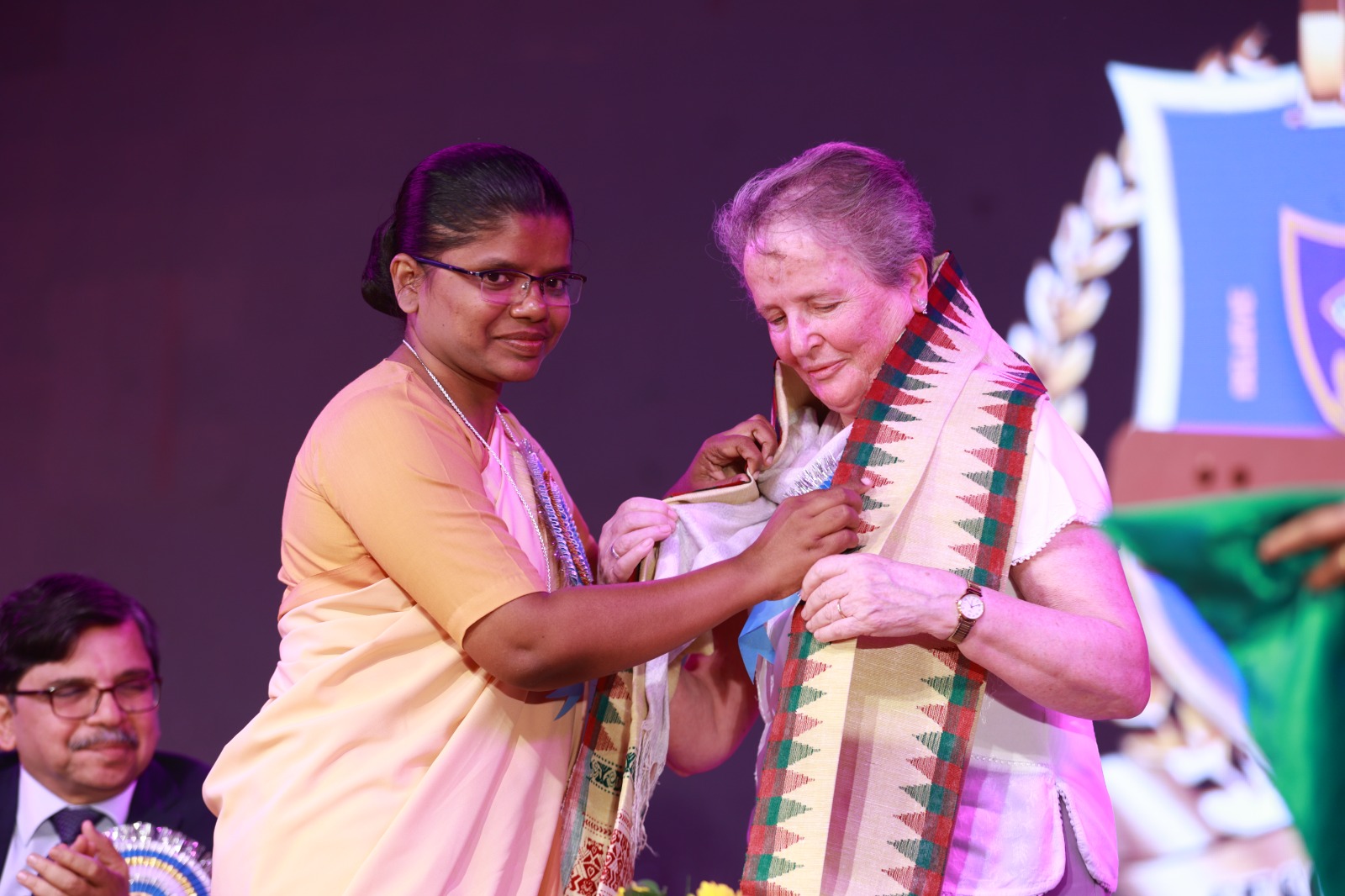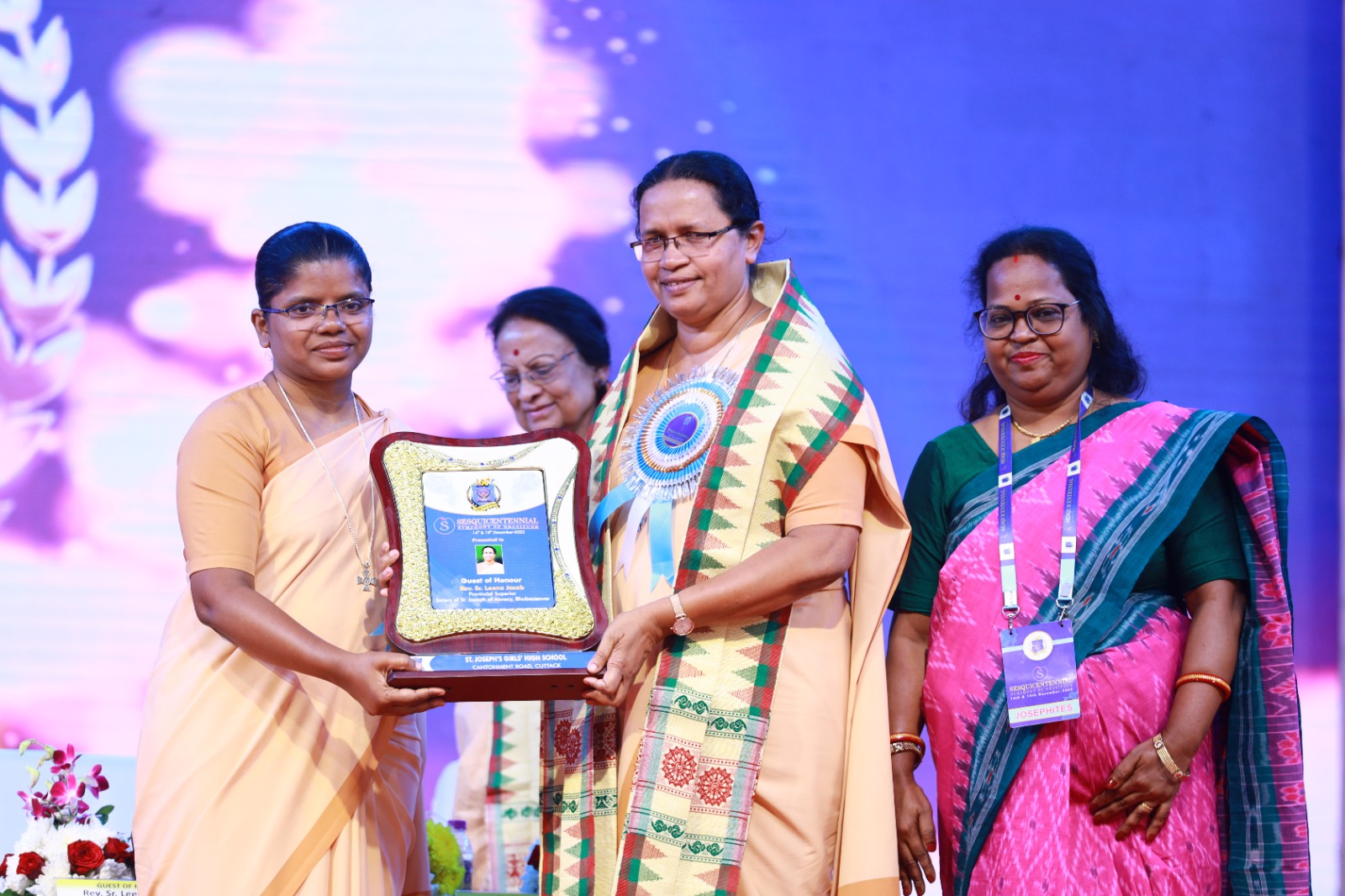 150 years celebration of St. Joseph's Girls' High School- not a celebration but a day for ruminating the past, uncovering the present and a forward look of treasured future of struggle, achievement, kindness and contribution. Sesquicentennial Year started with an opening prayer of thanksgiving to our Patron St. Josephon March 16th, 2022 along with the sisters and teachers under strict Covid-19 protocols. The months of hard work by sisters, teachers and students went by to mark this great event. The celebration of the Sesquicentennial took its peaks on 14th and 15th of December, 2022. The whole of campus took its colours into blue adorable with yellow and orange marigolds. The day started as we offered a thanksgiving Holy Mass in the morning in Holy Rosary Cathedral, Cuttack. On 14th the special invitees were, the chief guest Honourable Dr.Justice S.Muralidhar, Chief Justice , High Court of Odisha; the guests of honour Rev.Sr.Breda Gainey, Superior General, Sisters of St.Joseph of Annecy and His Grace Most Rev.John Barwa, SVD Archbishop of Cuttack- Bhubaneswar. On 15th the special invitees were, the chief guest Shri Saumyendra Kumar Priyadarsi, IPS, Commissioner of Police, Bhubaneswar-Cuttack; the guests of honour Padmashree Smt. Priyambada Mohanty Hejmadi, Former Vice-Chancellor, Sambalpur University and Rev. Sr. Leena Jacob, Provincial Superior, Sisters of St. Joseph of Annecy, Bhubaneswar. The solemn welcome procession for the guests of the two days was led by the school band, accompanied by the Principal Sr. Vijaya Mary and the Vice-Principal Sr.Tresa and few senior teachers. The guests were welcomed to the specially adorned sesquicentennial dais and were offered with beautiful bouquets, sesquicentennial badges and a tradional uttariyas from the state of Odisha. A great moment on 14th was the inauguration of the new school Logo which inspires to believe, dream and achieve and shone tall throughout the celebration. The school Sesquicentennial Souvenir was released by Rev. Sr. Breda Gainey the Superior General of the Society.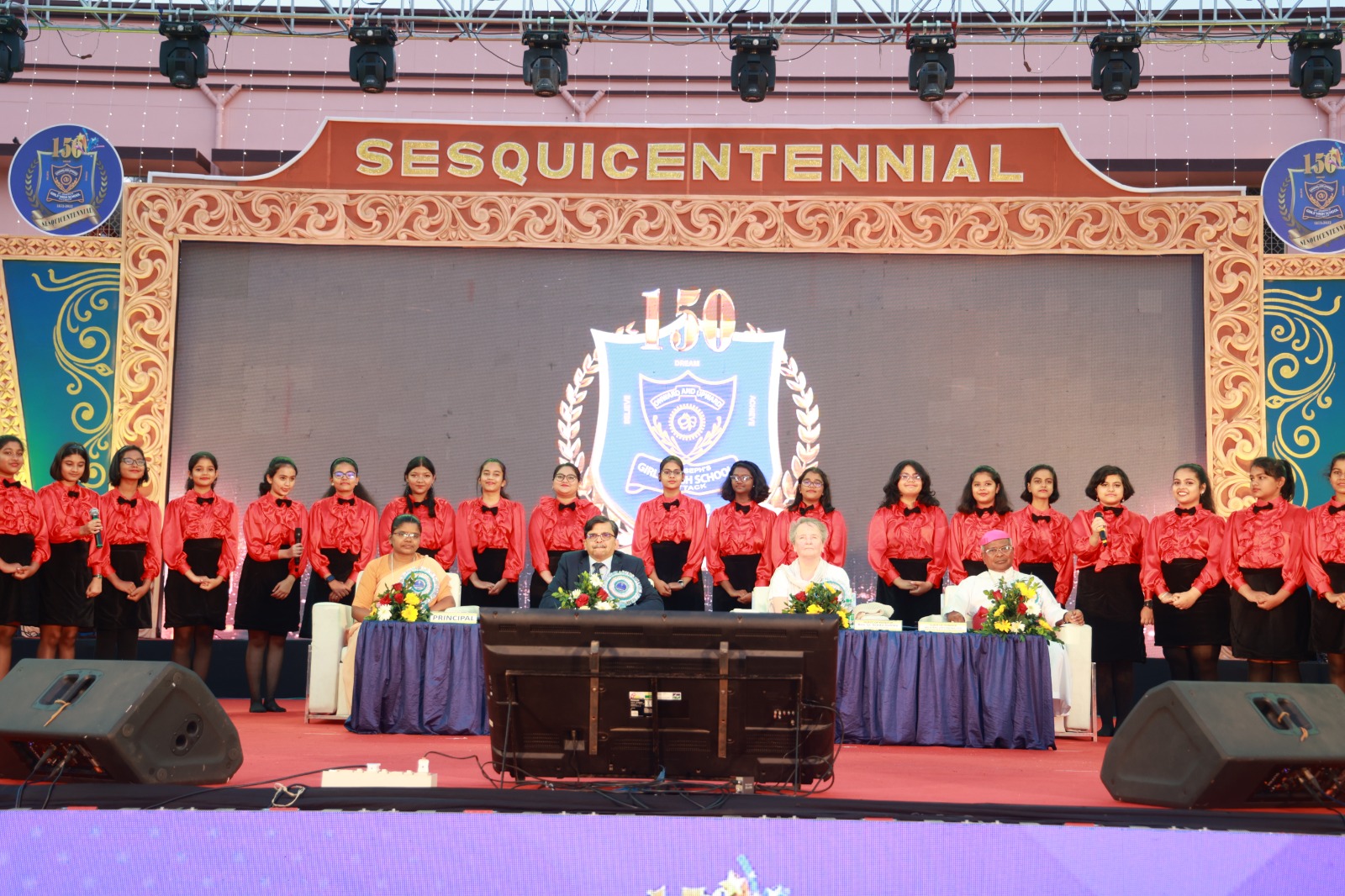 Inspiring words of our honourable guests are priceless. Rev. Sr.Breda Gainey said she relished the memories of the beginnings of this temple and how it grew up to make women of discipline and responsible citizens of India and to the world at large. Blessings of bishop meant a lot for all where he encouraged everyone to take risk. School is a temple of learning and child is moulded here into a complete human person, he said. School is an important place where values of respect can be inculcated. School is a place where children can be nurtured to meet hate with love, cruelty with kindness and provides space for difference. Children need to believe in their own strengths, inspired the chief guest of the day the chief Justice. He appreciated St. Joseph's Girls' High School for doing so.
On 15th respected Sr.Leena , the Provincial Superior , being the guest of honour said it's very important to empower the girls and so can be done through our own schools. Padmashri. Smt. Priyambada Mohanty Hejmadi, cited value of education from school to home and is successfully taken by the sisters of St.Joseph of Annecy. The Chief Guest of the day Honourable Shri Saumyendra Kumar Priyadarsi, IPS addressed students and all, stating the importance of making choices judiciously in the wide world. It is necessary to ignite the mind with inquisitiveness and to develop reading habit.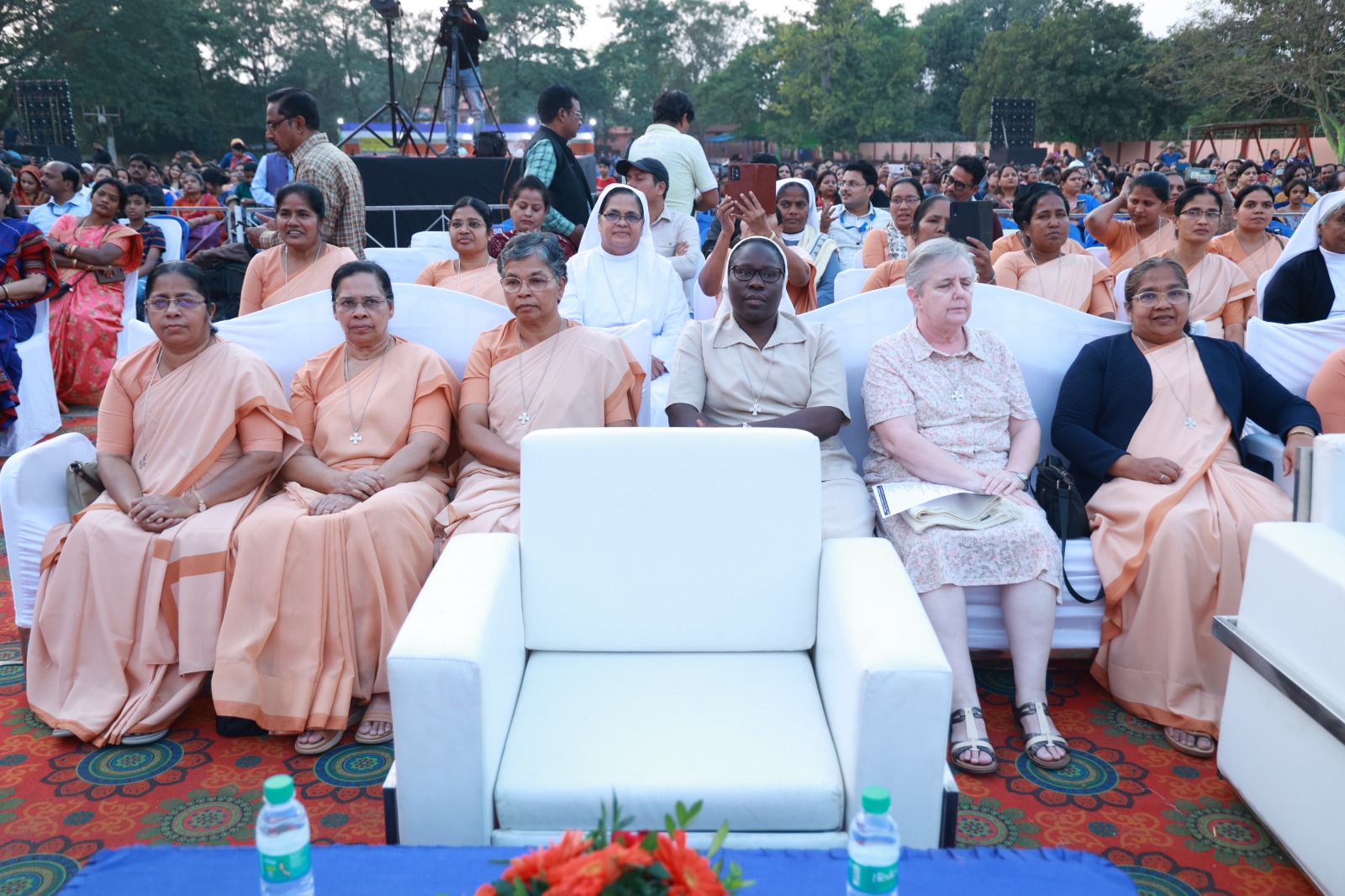 The due homage and respect were paid to the principals, the great sculptors of this institution under whose hard work and guidance, this institution stands tall. Fondly remembered Sr. St. Michael who played a major role in giving shape to this great temple and created lasting memories in the minds and hearts of many in Cuttack.A silent whisper of prayer was said for Sr. St. Joseph to intercede for us and that she may rest in peace. Sr. Rose Mary is fondly remembered by the present staff for her goodness, Simplicity and love she shared here in Cuttack. Sr. Annie Paul, Sr. Lucy Joseph, Sr. Elizabeth and Sr. Leena Jacob were felicitated as they have played key role in moulding the various aspects of this institution. It was a great moment that all the respected members of the Governing Body of the congregation Sr.Vianney Thanniath, Sr.Margaret Gallagher, Sr.Elizabeth Puthiyedath and Sr.Jacqualine Bianquinch were present along with Rev. Breda Gainey and their presence was a great support.They all were applauded and felicitated for their presence and support. It's a great and proud moment for us Josephites of Cuttack, that we received the Papal Blessing from Rome on this special occasion of Sesquicentennial. Sr. Elizabeth has been the key personality in making it happen.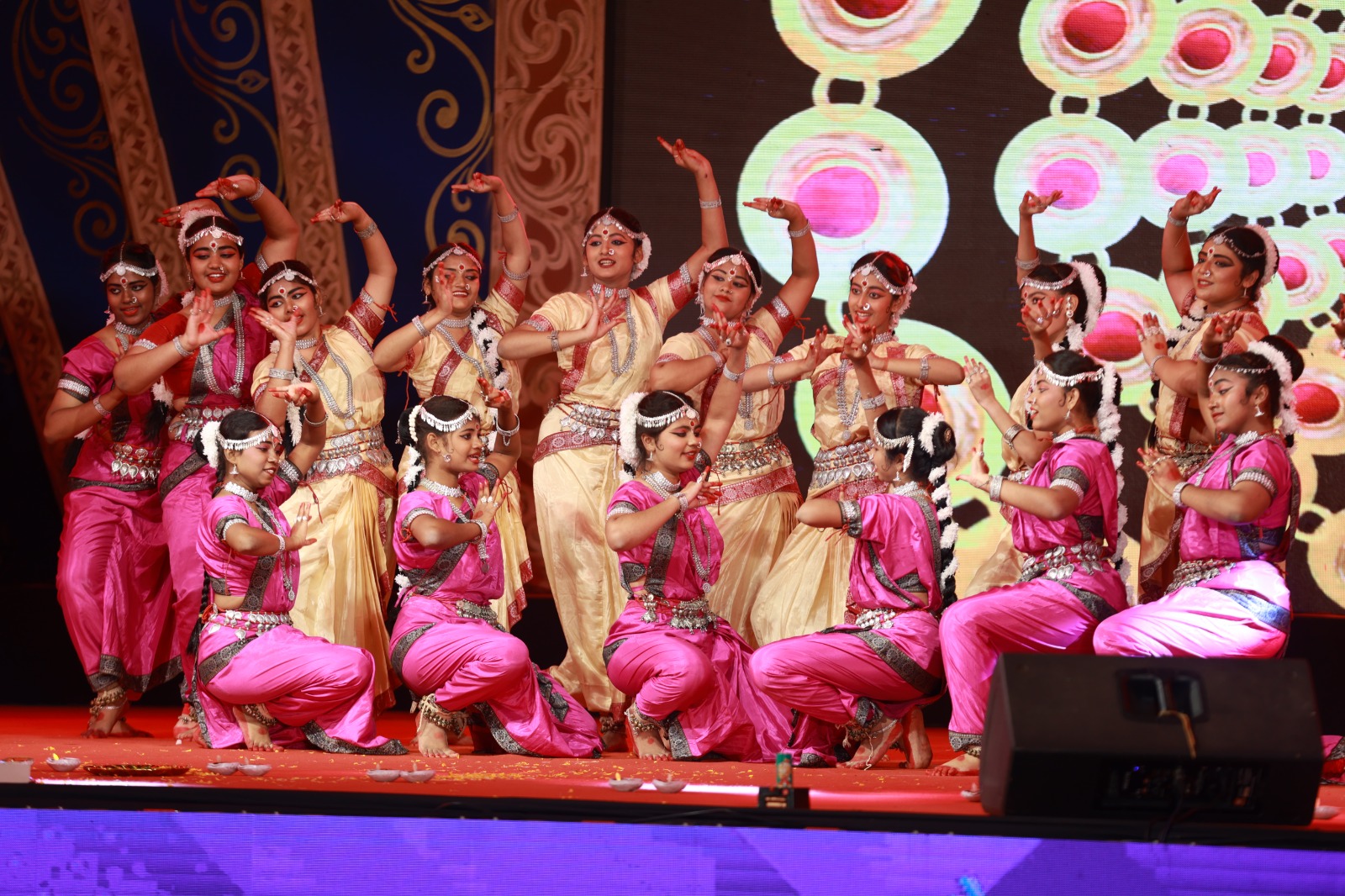 The Audio -visual of the school report was presented by the School Principal Sr. Vijaya Mary where the contribution of the ages, life and activities of the school has been designed and presented. The teachers play key role in this our home of Learning "The St. Joseph's". All the teachers who have completed 25 years of committed contribution and service in this school of learning were honoured with a befitting felicitation.
Then made journey to the roots of this institution where the rhythmic sesquicentennial opening theme dance was presented by the students honouring every step taken by the years that went by and the committed personnels worked to shape this beautiful home of learning.The rhythmic offerings by our children were empowerment of women, saving the nature, different human emotions, ending the devastating war with peace, ready to overcome the hurdles of life with determination and fearlessness. The education they receive makes them strong and enjoy freedom- freedom of thought and freedom of expression. The traditional dances and festivals of India were depicted and it was colourful and breath-taking performance. All the hard work put in by the students was a great sight and pleasant to the eyes. The little ones could move their steps so perfectly that it showed their dedication. National Anthem had given a solemn closure at the end of cultural programmes on both the days.
Courage to think different
Courage to invent new
Courage to create and travel on
An unexpected path
Courage to discover the impossible
Courage to combat the problems and succeed
Courage to speak and stick to the truth
With this courage, the blessed Josephites will cover miles with the flame of knowledge and love for humanity.
Sesquicentennial of St. Joseph's Girls' High School, Cuttack celebrated on 14th and 15th proved that no dream for noble work is a chimera rather a direct action of dedicated hearts and determination. Last but not least, we all owe to St. Joseph's for our Identity and the institution also owes to all who are the active family members forever.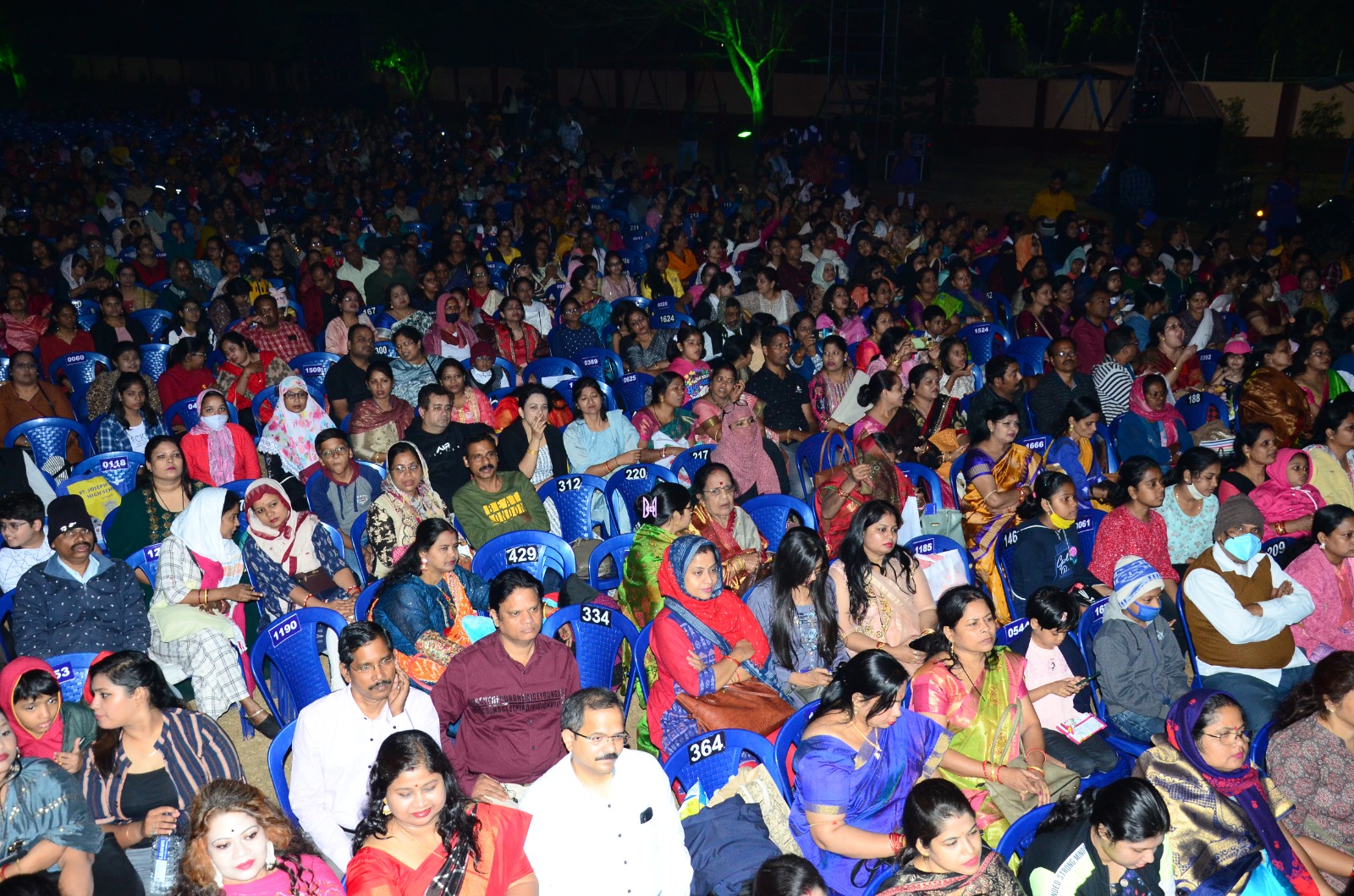 This Sesquicentennial was witnessed by thousands present at the moment in the colourful school grounds and thousands watching online. It was very supportive and encouraging that our sisters were present from across the globe represented by Sr. Breda and her team, sisters from Visakhapatnam Province, Sr. Leena and her team and dear sisters representing from every community. Symphony of Gratitude from the sisters of Cuttack community and from the staff and studentsof St. Joseph's Girls' High School to all who supported with your kind presence and powerful prayers and we surely believe in the intercession of our dear Patron St. Joseph, Our Father Fr. Jean Pierre Medaille and our sisters already present with the Lord. It was a miracle celebration and a mile stone event witnessed by one and all above all packed with God's blessings on one and all.
Thanks to One and All.
Sr.Vijaya Mary,
Principal,
St.Joseph's Girls High School,
Cuttack,
Bhubaneswar Province.