What thanks O Lord, can we render thee for all the gifts thou has showered on us……"
8th October 2022 is a milestone in the very life of each one of us.
"Called to move beyond…." is the theme of our Final profession.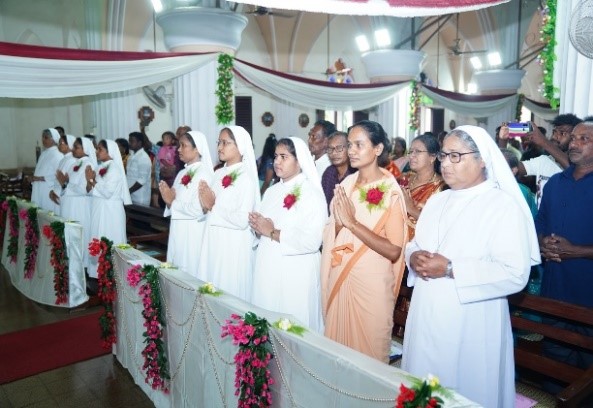 It was a long awaited and most memorable day for six of us. Our hearts are filled with joy and gratitude to the Almighty God for his unconditional love and calling us to be his forever…. We join with Mary our Mother to sing the praises of God and marvelous things he had done in our lives, especially for molding us and accompanying us, to say the final yes to him with our heartfelt song of the Magnificat to glorify the Lord.
On this day, we felt every moment and every ceremony as Holy, surprising, and as great wonder, because we were committing and surrendering ourselves totally, "To be HIS forever and for Him alone". On this special day the main celebrant was His Excellency Most Rev. Bishop John Barwa the Archbishop of Bhubaneswar. His presence, breaking of the Word of God and specially every ceremony during the Holy Eucharistic celebration was very prayerful and special to all of us with the melodious and heavenly choir of our sisters.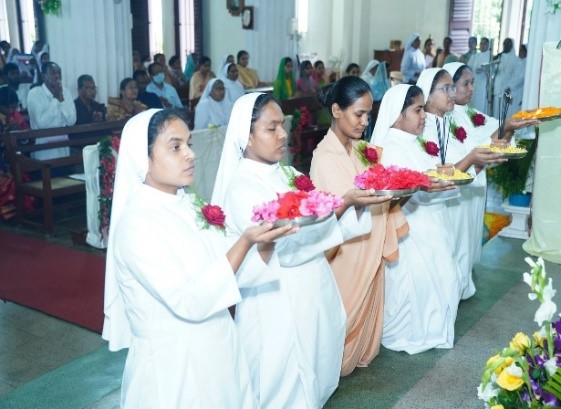 We highly appreciate and express our sincere thanks to our Superior Geneal Rev.Sr.Breda and the councilors. We acknowledge and appreciate the dynamic leadership of our Provincial Rev.Sr.Rose and her team, for the many opportunities they have given us to nourish our vocation. We specially thank all our mistresses and superiors who planned and implemented every program systematically and who have guided and leading every moment to reach this great day. We have also experienced the hand of God through all our sisters.

The Lord has so willed and loved us, therefore He allowed us to reach this day. We believe that God wanted us to be with him and to be sent out. Because I was born and chosen to move beyond… for Christ.
The blessings and prayers of all the priests, sisters and specially our dear parents have strengthened our commitment to the Lord. The esteemed presence of all our dear ones have made this day a colorful and memorable one in our lives.