FIRST & FINAL PROFESSION, Visakhapatnam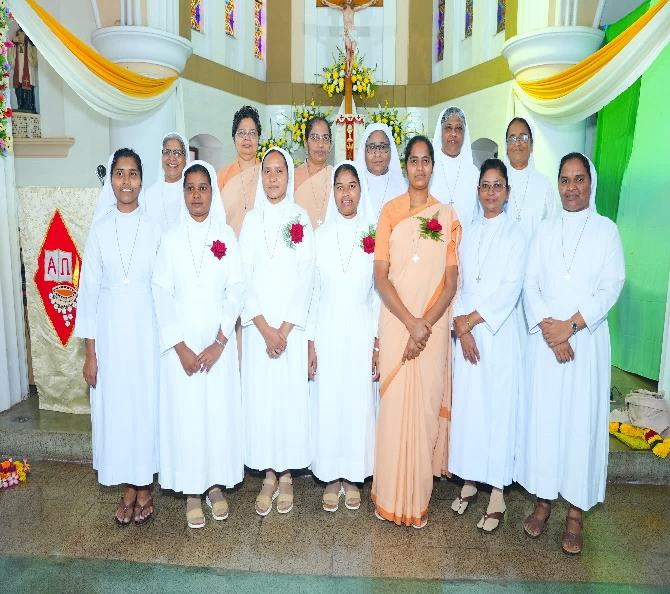 "Him in communion we travel together"
December 22nd, 2021, was a memorable and joyful day for the Sisters of St. Joseph of Annecy, Visakhapatnam Province as there was a twin celebration of the First profession of the Novices, Karmela Pradhan, Sarita Marandi and Dhanmuni Soren and the Final Profession of Sr. Bommu Rani. We thank God for the gift of them to our Congregation and for their courageous spirit and generous response to follow the Lord.
St. Joseph's Parish Church, Waltair was adorned with flowers and garlands for the solemn celebration of the Holy Eucharist which commenced at 10.30 am, and graced by his Grace, Mallavarapu Prakash, the Archbishop of Visakhapatnam. The three Novices and Sr. Bommu Rani approached the altar with lighted lamps accompanied by their beloved parents on either side. Archbishop Mallavarapu Prakash, Sr. Rose the Provincial Superior, Sr. Francisca, the Asst. Provincial, Sr. Mary John, the Juniorate Mistress, Sr. Jeenat the Novice Mistress and all the con-celebrants also joined the entrance procession. The Would-be-Professed were introduced to the gathering by Sr. Mary. Then Sr. Rani and the Novices welcomed everyone in their own mother tongue. During his homily the Archbishop emphasized on the four Cs - the Call, Consecration, Commitment and Community living. Sr. Rose the Provincial Superior, received their Vows. The newly professed were given their religious names: Sr. Carmela, Sr. Saritha, and Sr. Dhanmuni. They received the Congregational Cross from the Archbishop as a sign of their Religious Consecration to the Lord.
The newly professed Sisters were also felicitated after the Eucharistic celebration. The presence of many Priests, Sisters from nearby communities, the beloved Parents and the relatives of the four Sisters, friends and well-wishers brought joy and festivity to the occasion. The celebration ended with the banquet. It was indeed a great day to recall the unending love and unfailing mercy of the Lord.
~ Sr. Jeenat Jose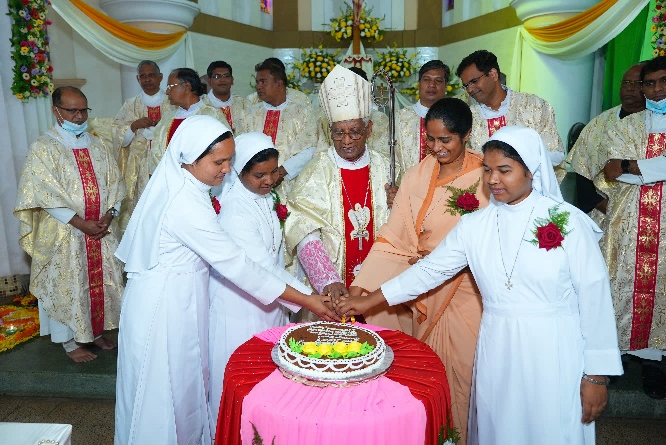 ……………………………………….