Celebration of Girl Child Day
September 8, 2021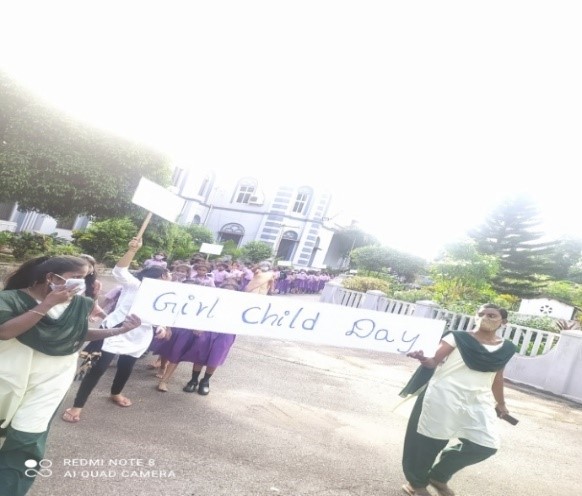 "Little Girls with Dreams Become Women with Great Vision". Unknown
St. Joseph's Community College observed the International Girl Child Day on 8th September. An awareness programme was organised to mark the occasion. The purpose of it was to promote awareness among the girl children in our own campus about gender equality and the safety measures regarding gender-biased violence and discriminations.
An inspiring message on "the Gift of Life and Gender Equality" was delivered by Sr. Jacintha. Sr. Padma and Sr. Satya touched upon the various problems and difficulties girl children are facing in society because of their gender.
The Community College students performed a mime and sang a song expressing the issues regarding girl children.
After the programme the students of Sacred Heart High School and Elementary School, Waltair rallied round the campus with placards displaying, "Empower Women and Girls" and "Promote Gender Equality".
All the students participated in the programme with joy and enthusiasm. They expressed their gratitude for all the insights they received. Our only prayer on this day is, " May this World Become a Safer and Peaceful Place for every Girl child to Live Happily"
Celebration of Girl Child Day
in Visakhapatnam Juvenile Home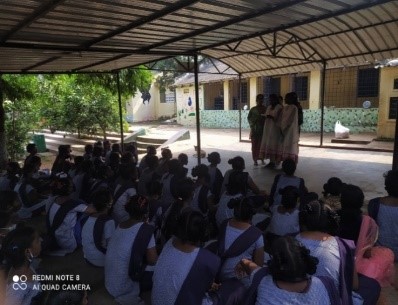 One of the activities of the Community College is the regular visit to Visakhapatnam Juvenile home with the view of listening to their problems, building rapport and extending our support. It takes time and effort to get close to these children as they feel inhibited to meet with the strangers. Once they feel confident, loved and accepted, they come out of themselves and share what is in their hearts. Our aim is to slowly rehabilitate them to re-take their place in society. We enlighten them on various topics like, Child Rights, Health and hygiene, Moral development etc. Skill development is also part of the programme.
There are around sixty-seven young women in Visakhapatnam Juvenile Home. Sr. Sangeetha gave an inspiring message on the importance of being a girl and the challenges they have to face being a girl and how to face these challenges courageously.
A colourful cultural programme was prepared by the Community College students to entertain them. It was so awesome to see a few of them coming forward to display their latent talents. It was indeed a meaningful day!
Formation of Self - Help Groups among the Domestic Workers
August 11, 2021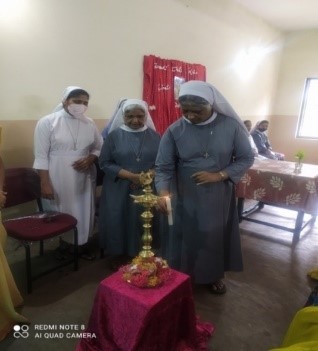 On realizing that it our bounden duty to promote the welfare of our women domestic workers, a Self Help Group (SHGS) was formed solely with the aim of teaching them the importance of saving their earnings. It was named, "ST. JOSEPH'S SWAYAM SAHAKAR SANGAM" [SJSSS]
Sr. Rose, the Provincial Superior and her team was present for the inaugural funtion. After lighting the traditional lamp, Sr.Rose spoke to them on the importance of Women Power and the need to become agents of unity and fraternity.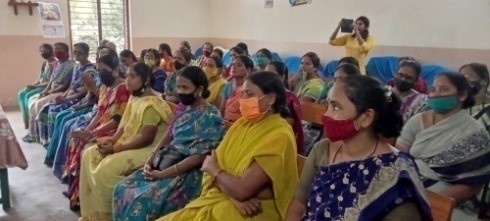 In Waltair Convent campus there are aroud 40 women extending their helping hands in various capacites. A formal group was formed to share their their problems and difficulties. The functioning of the group is as follows:
• To have monthly meetings in which attendence is compulsory
• To receive input sessions on various issues on Women- Health, Child Welfare, Rights of women etc.
• To come together to address their common problems and to extend mutual support.
Sr. Jacinta