Venturing into the Unknown:
Opening of Kailashahar Mission
"My Mission in life is not merely to survive, but to thrive and to do so with some passion, some compassion, some humor and some style."
A new chapter dawned, a new page opened and a new mission started in the history of Bhubaneswar Province when we dared to venture once again to the North East, to north Tripura adding one more presence of our visibility there in the region of Kailashahar.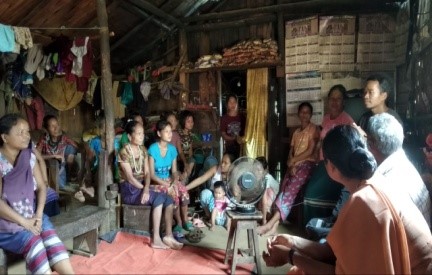 Kailashahar is the headquarters of Unakoti district which comes under the jurisdiction of Tripura, in Jamtalibari, seven kilometers away from the city. The village is quite small, yet enriched and unencumbered with fresh air and the extraordinary magnificence of tea gardens. The people of the locality are tribals and they have their own languages. However, many of them can speak and understand English. They also speak Bengali. The village consists of around 300 families. The people are very simple and gentle by nature. Most of them earn their livelihood from "Jhum" cultivation, which is a primitive method of cultivation. They are very friendly and easy to approach. Sharing their first fruits with others is one of their outstanding virtues.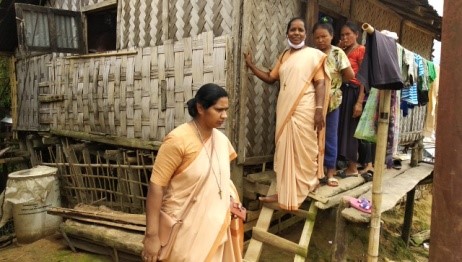 On 15th of August 2020, Sr. Annie Joseph, and Sr. Sanjuktha set out to take up their new mission in Jamtalibari. The Sisters received a very warm welcome from the Jesuit Fathers, who are our collaborators. The Sisters began their life in the new mission with a solemn Eucharist. The faithful who gathered for the Eucharist expressed their gratitude and joy in welcoming the sisters to their midst.
It is a privileged opportunity for us to work with the Jesuits as they are very mission oriented in reaching out to the marginalised. We have already begun tuitions for classes 8th -10th. Sr. Sanjuktha is in charge of the nursery classes. At present we have 34 students and admissions are still taking place. Sr. Annie is in charge of the dispensary. Along with Jesuits, the sisters are involved in self- help programmes in a few villages. Sixty women are earning an income from the contribution from Xavier Institute for development Education (XIDE). The Sisters are catering to the needs of the people in their village as well as nearby villages. During the visits, we were requested to open a Medical Care Centre. So, after having met all the requirements from the Government and Health commissioner, we opened a small dispensary. We have an average of 20 patients per day.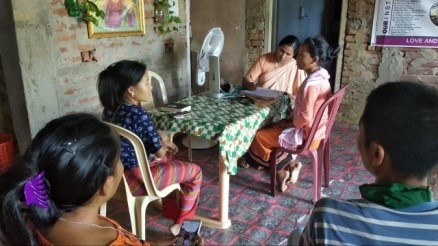 We are happy to share with you that we are starting a job oriented course, General Duty Assistance (GDA) for the young girls who, for many reasons do not attend school, from the local villages. It is a three months training programme. The girls have responded well, and we already have 21 admissions for the first intake of students.
We could see the hand of God which led our forefathers Abraham and Moses, guiding us to lead His people to the promised land of God's unfathomable mercy. We thank each one of you for your prayerful support for this new mission. May the Lord, who began this good work in us, bring it to completion. This is our wish and prayer as we move forward together, keeping alive the flame of our Founder Fr. Jean Pierre Medaille.