Accept Oh Lord, the Sacrifice of My Life
"My heart and my soul ring out their joy to God the living God" was the echo on the lips of our beloved Novices and Junior Sisters on their Joyous First and Final Religious Commitment Day. The Lord has carried them on eagle's wings and loved life into them. The long awaited day has dawned in the lives of our eight Sisters on January 16, 2021 at Holy Rosary Cathedral, Cuttack. Four of our Novices made their First Religious Profession and four of our Junior Sisters successfully completed their Juniorate by saying Yes to the call of the Lord to be His witnesses.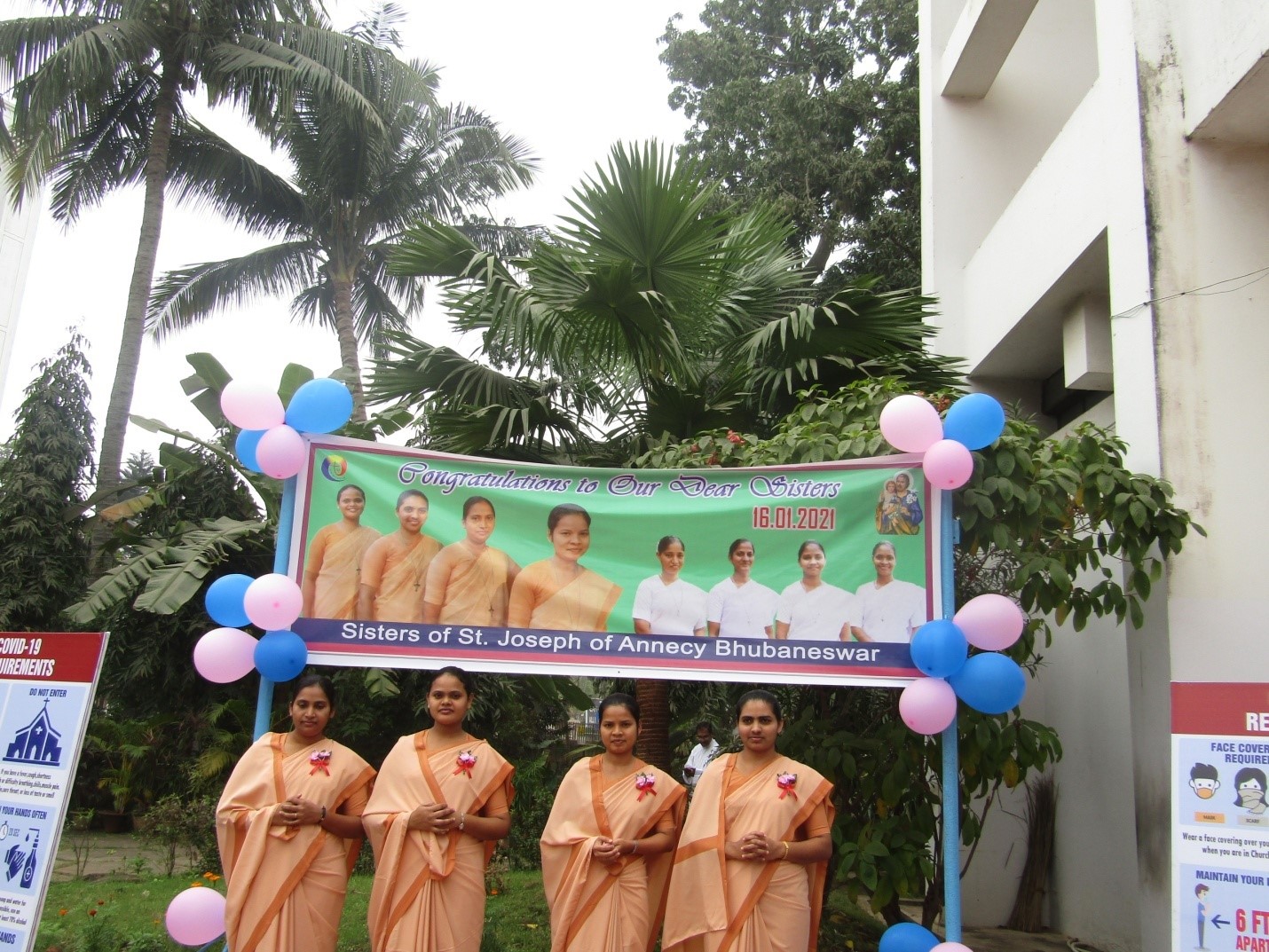 His Excellency, the Most Rev. Archbishop. John Barwa SVD officiated the Solemn Eucharistic Celebration. During his homily, he told the Sisters to look forward to the driving force in the Religious life and walk toward the destined end by being faithful to the Profession they have freely embraced. Representatives of Josephite Family from near and far, Families and friends of our dear Sisters, Priests, Religious, well-wishers and laity joined us to bless and witness the auspicious event of the hour. The Vocation rises day by day from the heart of God. The gathering invoked the blessings of God on the Professed that they may continue to see the beauty of the vocation they have chosen and persevere in God's goodness and grace.
The beloved Parents of the Sisters were acknowledged and thanked for their generosity for having sacrificed and encouraged their children to say "Yes" to the Divine call. On this day of elation and exultation, the Provincial Superior Rev. Sr. Leena, Junior Mistress Rev. Sr. Joseline and Novice Mistress Rev Sr. Nirmala Simon congratulated the Sisters. The Community was vibrant with joy and happiness to have this solemn celebration and welcomed the new precious gifts into the Josephite Family. A sumptuous and delicious festival meal was served for all.
Unto the Lord be the glory, great things He has done. May He continue to sustain in His love in our dear Sisters Nirmala Jose, Vimala, Keerthana, Mary Hyma and Rose Mary, Juliana, Pushpita and Sushmita Lakra as they journey on.....