CHANGES IN THE PARISH OF THONES
The district has 12 churches:
| | |
| --- | --- |
| Thônes | Les Villards sur Thônes |
| Les clefs | Saint Jean-de- Sixt |
| Serraval | La Clusaz |
| Le Bouchet mont Charvin | Le grand Bornand |
| La Balme de Thuy | Entremont |
| Dingy-Saint -Clair | Manigod |
The priests in charge of the district were :
Father Dominique Brêches 18 years as parish priest.
Father François Emmanuel Rosaz: 1 year in replacement of father André Arnet
Father Gérard Dupraz will be staying in Les Villards
The first two were thanked for their valuable services and will be replaced in September by the Community (3 Fathers) of La Salette congregation from Madagascar:
Father Joachin, parish priest of Saint Pierre Favre. Fathers Léonard and Roche-Parfait, assistan parish priests.
N.B. We only gave their first names because their Malagasy names are difficult to write and, even more, to pronounce.
On Sunday the 21st of August, in Le Grand Bornand, we celebrated the farewell Mass for Father François Emmanuel.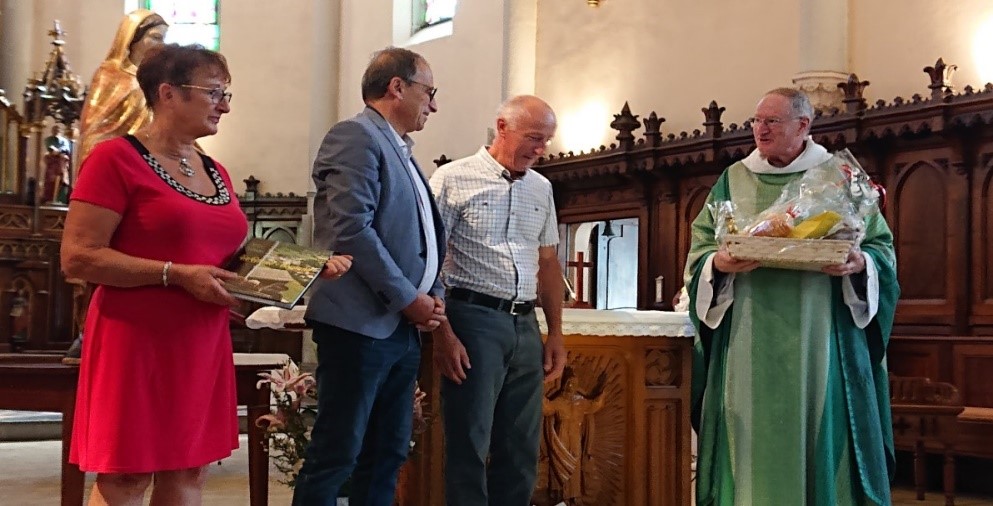 The parishioners of Grand Bornand and Saint Jean de Sixt expressed their special thanks to father François Emmanuel for his beautiful witness and his openess to all, during the year he replaced father André Arnet.
He also expressed his joy for the welcome he had received when he first arrived and for the colaboration with the different villages which was "to enrich each other with the Word of God". (Father François)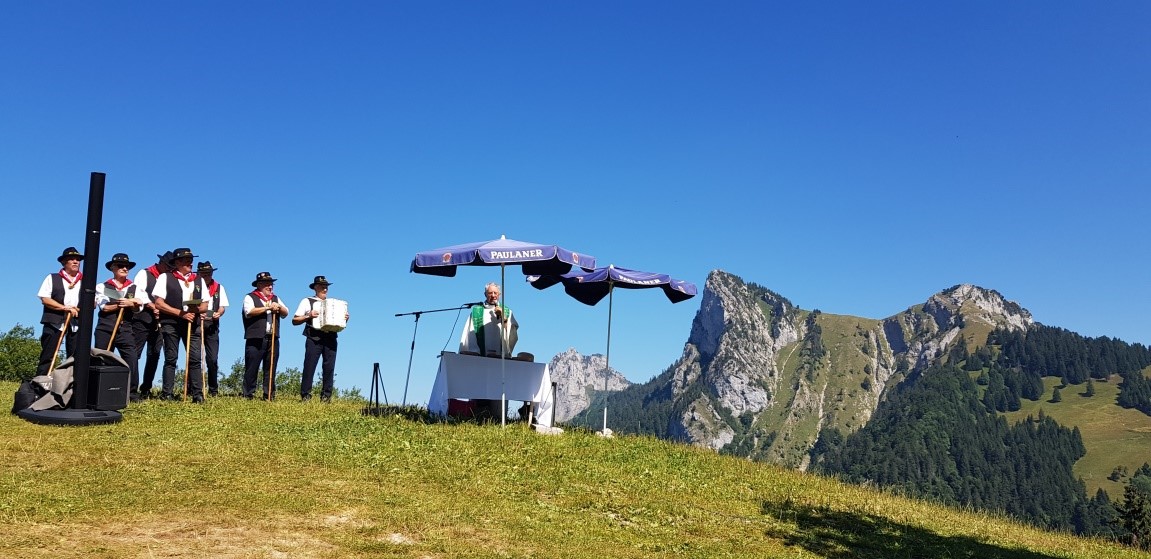 He will join his fellow brothers at the monastery of Murat, in the Cantal.
The following Sunday, 28th of August, another Eucharistic celebration and farewell for Father Dominique Brêches was organised in Thônes, following the first one which was celebrated on the mountain of Aulp de Montmin, on the 24th of August, animated by Sainfoins choir and attended by 200 people from the Aravis valley and some tourists.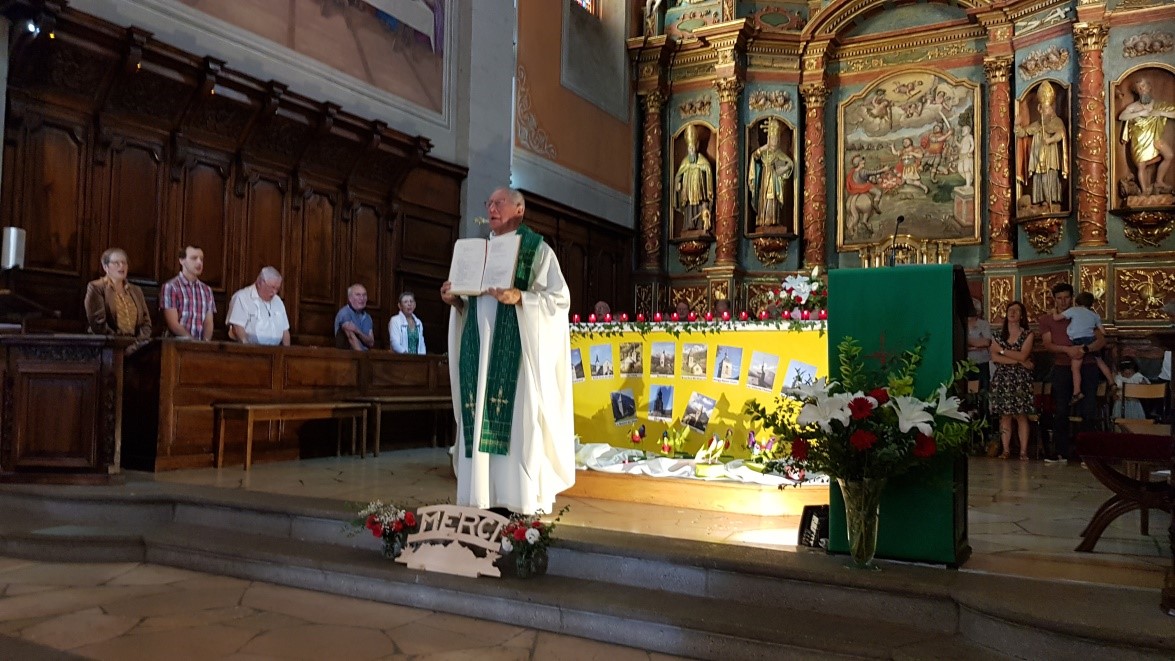 After 18 years of service in the parish, father Dominique was celebrated in many ways:
- The church was artistically decorated: flowers, boards displaying the 12 bells of the churches
- Procession of the children carrying 12 candles
- The celebration of the Eucharist was highlighted by the choir who animated and conducted the singing for the big congregation (about 500 people)
In spite of the strong emotion, the Celebrant put his joyful note in the homily saying : "At every moment of life there is a crossing over to the other Shore."
The following text, chosen by Dominique, could be the spiritual bouquet of these festivities.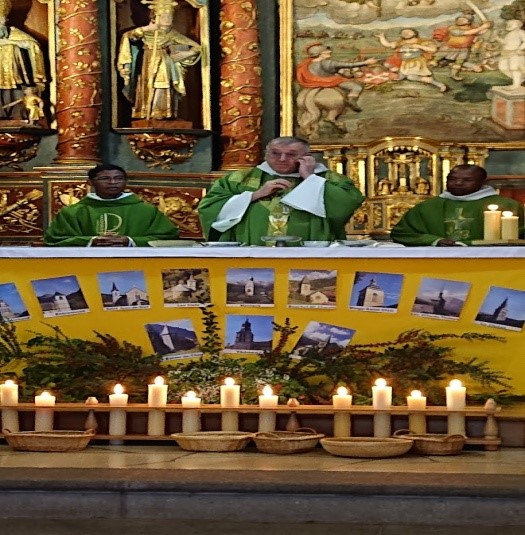 FRIENDSHIP
I met her by chance,
Behind a gesture or a look,
In a square or a station
Friendship
She needs our promises
She suffers when we neglect her
But she understands our weaknesses
Friendship
I need your friendship
To keep on walking
When we part on the way
To follow our own destiny,
It stays there and remembers,
Friendship
Even if you have changed sides,
Even if you prove me wrong;
I'd like to believe in her again,
Friendship
I have trembled at her silences,
And I suffered from her absence,
I want to regain her trust,
Friendship
If she says "come with me", "pick up your stick »
"Take your stick and follow me",
I want to follow her step by step,
Friendship
I need your friendship
To keep walking.
Welcome of the new « Pastors »On the 18th of September, the mass was celebrated in Thônes, by Bishop Yves Le Saux, the new Bishop of Annecy
Father Joachin, who is the new parish priest, was ordained a Deacon in 2010 in France,and then a Priest in 2011. He has served as an assisatnt parish priest in several parishes. and Father Léonard, assisatnt parsih priest, was ordained a Priest in 2OO4 and served in villages of Madagascar and in the Reunion Island, in Canada and in Grenoble. They were invited by the Bishop to profess solemnly their Faith in front of the assembly and their new parishioners.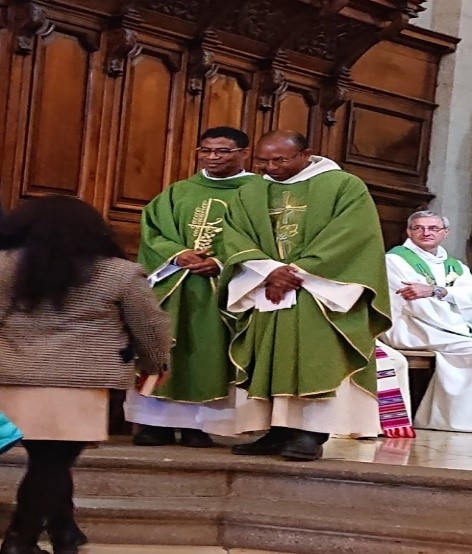 Father Roche Parfait, at present still in Madagascar, is getting ready for his upcoming arrival in France.
In mutual joy we sing: Glory to God!