Golden Jubilee Celebrations – Sr Denis Mary and Sr Marie de Montfort
In February 2020, Sr Denis Mary and I began preparations for our Golden Jubilee scheduled for June 2020. As a way of marking the occasion, we paid for 50 saplings to be planted in an area of deforestation in Africa. Little did we think that those saplings would be well-grown before we were able to celebrate our combined 102 years of Profession! Covid, of course, upset all our plans. The wait, however, was worthwhile and on 10th July 2021 we were finally able to share our joy in a wonderful celebration in the Abbey. The Mass was celebrated by Bishop Tom Burns SM, the retired Bishop of Menevia assisted by Fr Peter McClaren and Fr Paul Millar, in the presence of a few family members and friends, the Abbey community and Sisters from the local communities. After the Renewal of Vows, Bishop Burns in a really moving homily, stressed how precious each one of us is God's eyes – a reference to Isaiah 43 which is apparently exactly at the centre point of the entire Bible! Our hymns were replaced by CDs which lent a contemplative dimension hard to describe but certainly experienced. It was so good that we could all be together for the Mass, including many of the Sisters from St Joseph's Wing.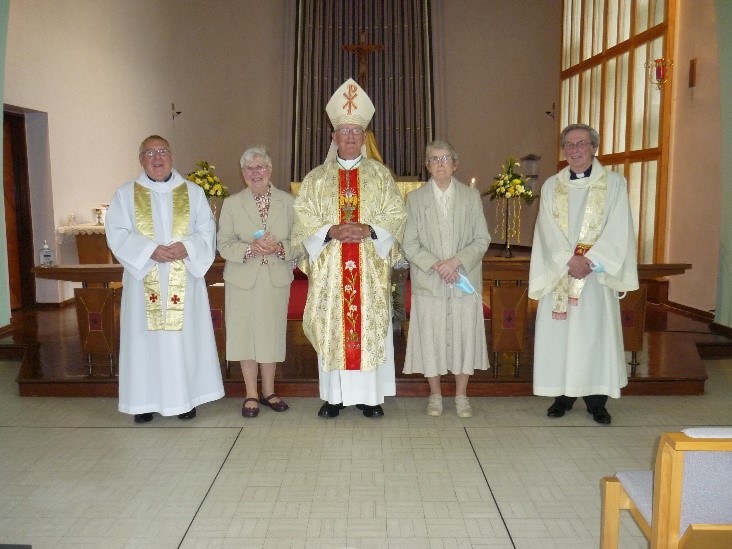 Sadly, due to Covid restrictions, the end of Mass marked the parting of the ways as the Abbey Community went to the Refectory while our guests and Sisters from outside communities went to library with both venues beautifully decorated for the celebration. The meal was delicious and the cake a work of art, iced in gold with golden crosses and roses.
It was certainly a Jubilee with a difference; there were notable absences, none of our usual "hugs" but we both felt the love, generosity and support of everyone. We were indeed made "precious" and are both most grateful and very mindful of the mammoth amount of work involved to keep us all safe but able to celebrate our 102 years!
For me, there was some more celebrating a week later. Both the Primary School, where I am a Governor and Chaplain, and the Parishes of St John Lloyd and Blessed Sacrament also wanted to mark the occasion. The school children were as amazing as ever and from the tiniest tots of three and four through to the top class of 11 year-olds, they had prepared poems, songs and dance to celebrate the Jubilee. Their gestures were incredibly moving.
In the evening of that day, Archbishop George celebrated Mass in our Parish Church together with our Parish Priest, Fr Gray and a newly ordained Deacon, Elliot. This too was very special with the Church filled to Covid-capacity of almost 100, including Srs. Susan, Anne, Punitha and Jessy as well as the Chepstow Road Community. Talking to parishioners later on, I found that they were very moved by the Mass, especially the renewal of Vows which for most present would have been a new experience. Ten children from the school formed a "bubble" choir and sang so sweetly and prayerfully.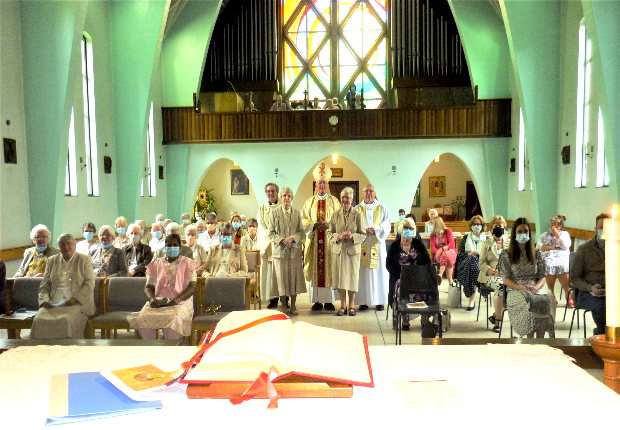 After Mass, we walked the few yards to the school, where everyone shared in a hog-roast in the tastefully decorated school hall, followed by plenty of chit chat. It was a joyous evening and maybe the last word should go to the cake decorator who added a big +1 to the 50!
Both occasions gave everyone a much-needed chance to celebrate after such a difficult 18 months and they have provided so many happy memories to cherish in the years ahead.
Sr Marie de Montfort