January 11th June marks a new milestone in the history of the Mission of the SSJA. It was a bright day with freshness of cool breeze blowing all around and filled each one's mind and heart with Joy and excitement when our Four Novices were blessed along with the new novitiate building "AMANI HOUSE" (House of Peace) St. Joseph's Novitiate, P.O. Box 830 Chemba, Dodoma.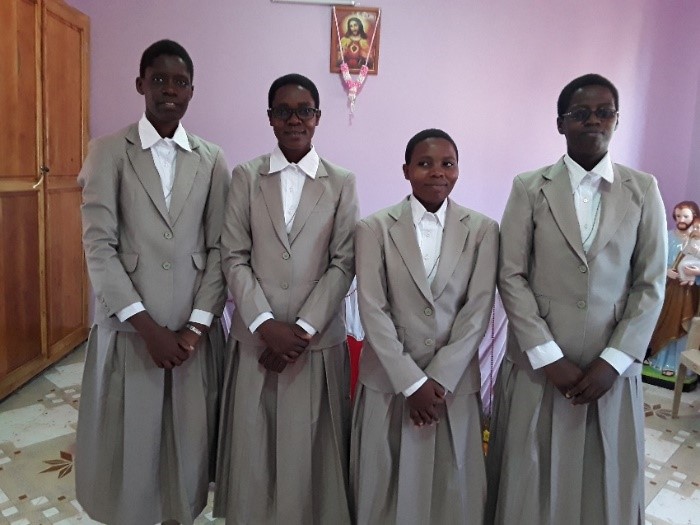 Novices: - From left to right: Gaudensia, Sylvia, Angela,Philomena
The Holy Eucharist was presided by E.R.P. Richard, the Vicar General of Kondoa District, along with the Parish Priest Rev.Fr. Norbert of Chemba, Parish Priest of Kadoka and by few MSFS Fathers, friends and our Sisters from Dumila.
Sr. Marietta our Mission Leader, welcomed all the Guests and Invitees before the Mass. The Novices and Pre-Novices sang melodiously with Drum beats on the solemnity of the most Sacred Heart of Jesus. The Vicar General delivered an inspiring message during the homily and expressed his heartfelt welcome to the Sisters of St. Joseph of Annecy to his Diocese.
After the Mass, all were served a delicious meal. All the workers from the site too were served dinner. By the grace of God all went well and our Sisters from Dumila and Dar and the Priests from different places returned. We are indeed grateful to all those who have contributed to this day directly and indirectly. A special thanks to Sr. Angelina for the construction of the Novitiate building. We are also indebted to our General Team for their support and prayers.