Great excitement & Joy in Dumila Community
The Dumila community started preparations from 31st May to welcome the Novices and Pre-Novices. The long awaited day dawned on 4th June at 2.30 a.m. when three candidates arrived after three days,' journey from their village, another arrived in the evening after one month home holidays. On 5th the last candidate arrived. Since the community could not accommodate everyone, we arranged rooms for the candidates in the Hospital. On 6th June on the feast of the Corpus Christi the Candidates begun their two days recollection given by Rev. Fr. Reji the Provincial Bursar of MSFS.
We were extremely happy and excited to welcome our Pre-Novices after their 8 days retreat on 8th evening. On 9th at 3 pm the initiation ceremony of the Pre-Novices and Novices took place. The service began with cultural welcome (with Kanga's: it is a piece of designed cloth) followed by a prayer service. Our hearts are filled with gratitude to Almighty God as we gathered in the Chapel as a family of St. Joseph, in prayer for the initiation Ceremony of our four Pre-Novices and five Candidates who joyfully came forward to follow their next stage of formation. It is a privilege to honour persons who have discovered the precious call of God and whom the Lord holds at the core of His being. God calls them to sow the seed of love in the Congregation of the Great Love.
On 10th early morning we began our journey to Chemba with nine formees and their mistresses. With great joy to welcome the long-awaited day in the life of the Mission territory.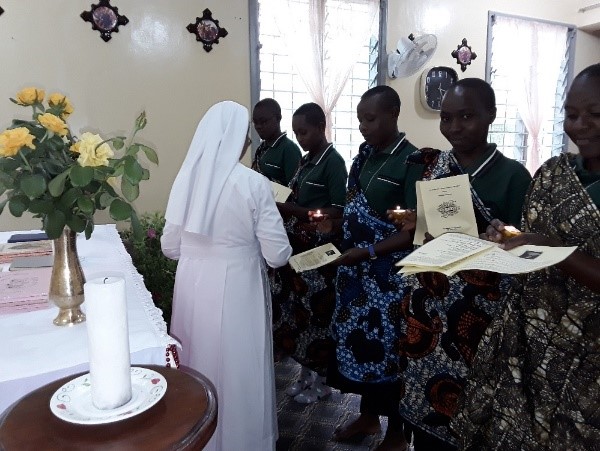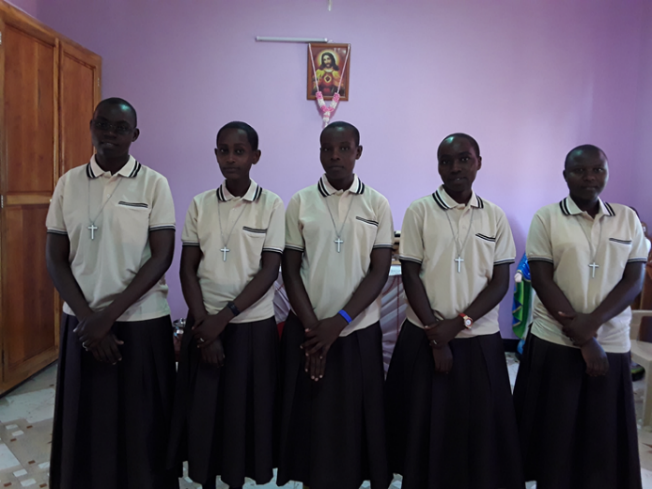 Pre-Novices: -from right to left Ursula, Dionisia,Benitha,Glory, Antia