A 'ONE-WORLD' ACTION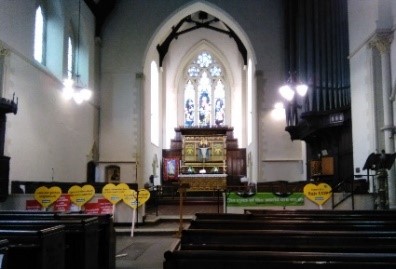 Much has been said and written about Climate Change. Now that it is being experienced in dramatic ways all over the world, will our political leaders at last listen to the call for a radical change in the way the rich get richer at the expense of the poor and our planet Earth?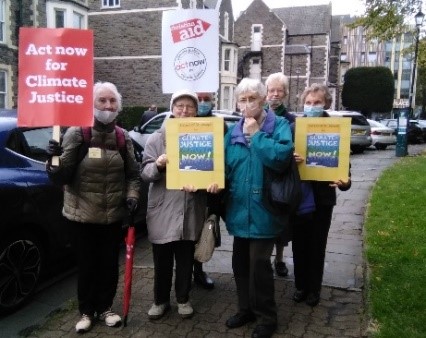 November 2021, it was the UK's turn to host the United Nations conference on Climate Change. Would the assembly be able to agree on a plan that would limit global warming to 1.5° and so avoid even worse flooding, drought, famine and war? Would they have the courage to implement it when the hype of the meetings was over?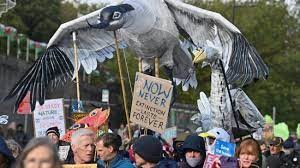 November the 6th, halfway through the conference, was designated by organisations as a Day for Global Climate Justice. Those of us of the English Province who were free, fit and able decided we would add our SSJA voice by joining the rally nearest to us, in Cardiff, the capital of Wales.
For Christians, the day started at a Welsh-speaking church, Eglwys Dewi Sant, (St David's Church) close to the city centre. Three groups had shared the organisation: the Evangelicals of Tearfund, Christian Aid and CAFOD, a branch of Caritas. After prayer and reflection, including activities for little children, we made our way to City Hall where the main group was already assembling.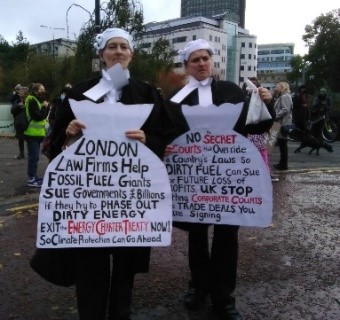 Many groups were represented there, all keen to impress on governments the vital need for not just good words, but also for action if we are to avoid a totally disastrous raising of world temperatures. There were mime artists, nature defenders, unions, religious groups and people from countries where families are already suffering from unrest caused by climate change…
And then there were the musicians who led us on the march to the Welsh Parliament in Cardiff Bay where speeches were delivered to the many who had the courage to continue braving the cold. After picnicking there for a while and watching the huge crowd assemble, we decided there was wisdom in finding a bus back to the city centre before everyone else had the same idea.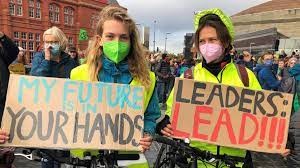 It was a good-humoured walk and a great chance to get chatting to people who shared the desire to add their voice to the hundreds of thousands all over the world who were marching that day for the same cause. Now, we do need to continue praying for wise leaders and changes in society's systems so that the whole of Creation is seen as our Common Home and not merely a resource to be plundered by the better-off.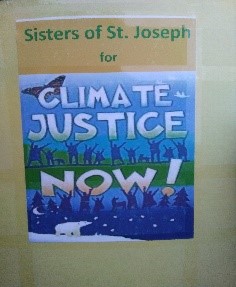 Sr. Anne Rutter