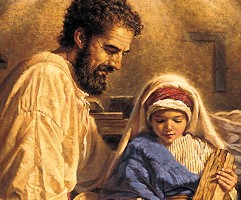 Dear Sisters,
I would like to wish each one of you a blessed feast of St. Joseph our Patron and the patron of the Universal Church. Pope Francis has chosen to dedicate this year to the protection of St. Joseph, patron of the Universal Church and speaks about all aspects of his life in his Apostolic Letter Patris Corde. This letter highlights "the creative courage" of St. Joseph, which "emerges especially in the way we deal with difficulties." "The carpenter of Nazareth," explains the Pope, was able to turn a problem into a possibility by trusting in divine providence." He had to deal with "the concrete problems" his Family faced, problems faced by other families in the world, and especially those of migrants.
Though we are in the season of Lent, the feast of St. Joseph is celebrated with solemnity. Our founder, Fr. Medaille, asked us to prepare for the feast of St. Joseph by making three days of recollection. The focus of this preparation was "to obtain his continued protection and the progress of his humble congregation in the greatest love." (Spiritual Directory). In 1650, our Founder had placed our congregation under the protection of St. Joseph. "The Congregation is to carry out its mission by an attentiveness which Fr. Medaille intended should be characterised by that "perfect and cordial charity "with which Joseph cared for Jesus and Mary. That is why he placed his "Little Design" under the protection of that great saint." (Constitutions Page 10.)
The season of Lent is a good time to think about why Joseph is relevant as our patron today. The Church officially reveres him as the patron saint of workers, of fathers, and of a happy death. Pope Francis has drawn attention this year to this silent man in his Apostolic Letter. But I like to think of him also as a patron for other situations that speak profoundly to us today. Joseph dealt with the same crises that millions of families face in our time: government-controlled terrorism, forced migration, and the pressure of leading a family in stressful times. Like no other saint, he can help us respond to these challenges with the steadfast faith and courage that he showed in his own life.
Joseph was a man on a journey. The Gospels describe Joseph's journeys several times. First, he sets out for Bethlehem with Mary, his pregnant wife, to take part in the census. Then, with their new-born baby, they flee Bethlehem for Egypt. Later, in more peaceful political times, Joseph takes his family to Jerusalem to celebrate the feast of Passover. Much of what we know of Joseph's life, then, is a mystery—moving from place to place, often going great distances to fulfil the will of God.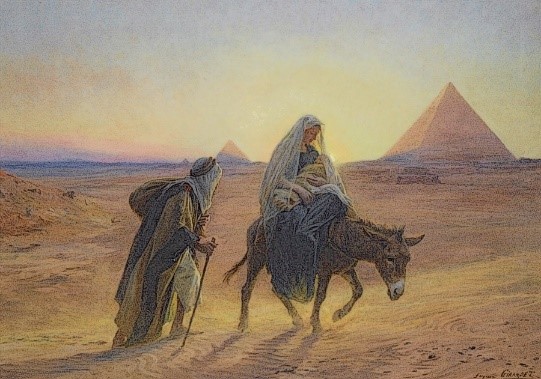 For most of us we tend to remember Joseph's journey to Egypt when Herod, worried by reports of a new-born king living in Bethlehem, had ordered the death of all baby boys, in that city. Our imagination allows us to see those families of Bethlehem one morning, awaken to the sound of soldiers outside the door with swords drawn, murdering all baby boys of 2years and under. The frantic and terrified cries of mothers and children followed. Rachel weeping for her children. It was this ancient form of state-organised terrorism that made Joseph escape with his family from Judea to Egypt—a 200-mile journey across a desert.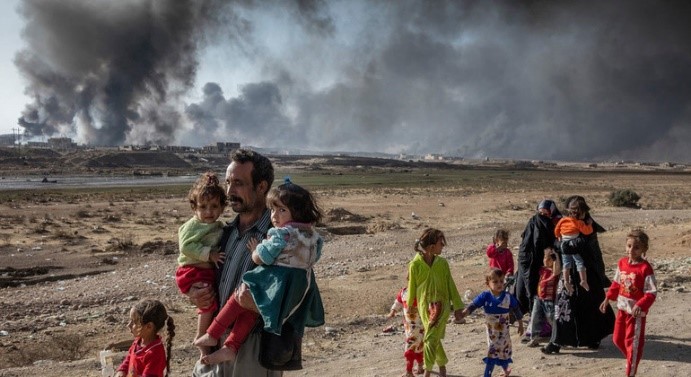 So many people today are forced to leave their homes in similar state-organised acts of terrorism, in search of a better future. The number of migrants today has reached nearly 300 million, including 35 million refugees. There are migrants from Central America leaving their families behind to find opportunities in North America; Syrian and Lebanese families make dangerous sea crossings to Europe only to be confined in crowded camps in places like Calais; Migrant workers in India who go wherever they have to go to find work; persecuted families in Eritrea and the Horn of Africa fleeing to neighbouring Ethiopia to find nothing but drought. There are millions of Josephs in our time.
We are all familiar with the plight of migrants from the constant exposure to advertising on our TV screens. For all these poor, as well as for each of us on our journey, Joseph stands as an example of resolute trust. He encourages us not to be afraid: the same message carried to him by an angel: Do not be afraid (Matthew 1:20). Joseph, silently, offers us stability, surety, and hope. He was able to journey and keep his family safe because he knew the presence of God was with him guiding him and giving him comfort. Joseph shows us that God will walk with each of us too, wherever our journey takes us.
Joseph is also the unsung patron for Victims of Terrorism. The terror and religious persecution that made Joseph a refugee, continues today. Christian churches and mosques alike are being burned and bombed. Innocent children are being kidnapped. From Africa to India, from Europe to the Americas, many families know what it is like to live under the shadow of death. Only recently in France there were terror related murders of innocent victims just doing their jobs or going to church. In many ways, these are the descendants of those families of Bethlehem.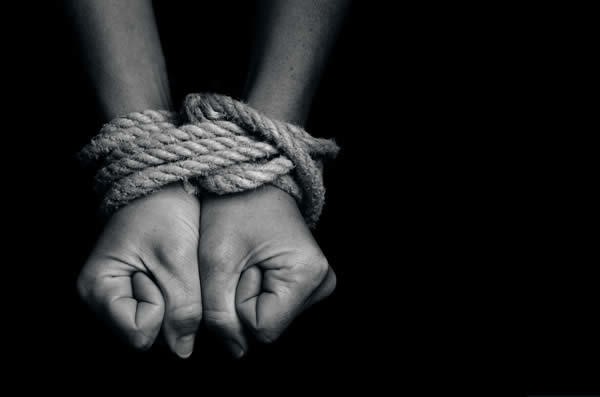 St. Joseph as their advocate, weeps with them, grieves with them, and prays for them. His own family were saved some of this suffering through the voice of an angel—and his own surrender to God's plan. His example of quiet strength can serve as an encouragement to all of us as we struggle to maintain hope in times of difficulty and not knowing. This simple man understood what it was to care for a family in a challenging or dangerous time. Whenever we ask God to comfort the suffering, lift up the downtrodden, and console those who are afraid, Joseph watches over us as an understanding and compassionate guardian. This Lent, as many of us struggle with how to do God's will or trust in his plan, St. Joseph shows us the way. God helped Joseph navigate his burdens. He did not take them away; he just showed Joseph that he was trustworthy.
Joseph, trusted God and stayed faithful in prayer even when his work and home life were turned upside down. His love for Jesus and Mary encouraged him to keep trying. His courage, trust, and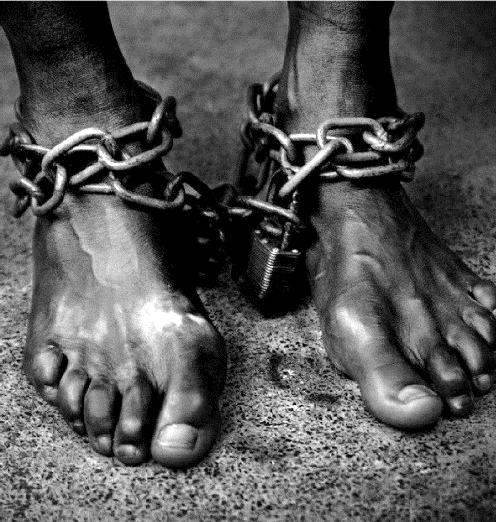 steadfast love became the foundation for Jesus to grow up and fulfil the will of the Father. We, too, can create openings for Jesus this Lent. As we try our best to follow God's will, supporting and loving each other in our communities, we can trust that Joseph is watching over us.
This year, as prepare for our Easter, let us look to Joseph as a man for our time; a man who understands what it is like to have his security taken away. Our experience of the pandemic has taken away some of our security, creating in each of us a sense of "not knowing" what is ahead. If you have any doubts about that, just think of Joseph, the great silent partner of the Holy Family, model of courage and perseverance in troubled times.
Pope Francis uses the letter of St. Paul to Philemon to launch his message on modern day slavery. In one of his homilies, the Pope prayed and re-echoed his message when he said, "All of us are called to be free, all are called to be sons and daughters and each, according to his or her own responsibilities, is called to combat modern forms of enslavement. From every people, culture and religion, let us join our forces," said Pope Francis. Human trafficking is referred to as modern day slavery. Sr. Ann Teresa and those she worked with, drew attention to this situation in our world which led to the founding of the Medaille Trust in the UK. She advanced good works till near their completion and then got it finished by another who gained all the credit. This organisation is now recognised around the world and draws attention to modern day slavery, providing safe places for victims to stay.
It is clear Pope Francis has in mind the many migrants who are lured from developing countries to Europe or to the Middle East with promises of fake jobs. Many of Africa's young women and men have been lied to and have found themselves trafficked, trapped, and enslaved. The women and girls are ensnared and are forced into prostitution or traded as sex slaves. In many cases, the traffickers are known and trusted persons or even relatives.
Experts say that traffickers always find a way of making those trafficked perpetually indebted to them. First, one is offered a job somewhere abroad as a model or in construction work. The person offered the so-called job usually has no money to cover travel; pay the fee to the one who has found the 'job;' subsistence money and several other payments. It usually then falls upon the family to borrow the money from the same traffickers. When the victims reach their destination they often discover, to their dismay, that there is no job as a model or college for further education. They are then forced to work on agricultural plantations or in factories for many hours in horrible conditions. This is always disguised as paying-off the "debts owed." Unfortunately, the value of the work becomes greater than the original amount borrowed. In these cases, the debt is never fully paid. The debt is even passed on to the next generation. Various forms of force are used to make the victims stay and continue to work. In most cases the victims are under armed guard or are locked-up in a place of work. Sometimes, they live with the threat of violence to their families back home should they not comply. These people could be living in our neighbourhood or on our street.
Slave labour arises from circumstances of abduction, kidnapping, child-marriage, domestic work and so on. Increasingly more and more people are being trafficked from developing countries for body parts where vital organs (heart, liver, kidneys etc.) are "harvested" from them against their consent.
There have been recent calls on the Church in Africa to work closely with governments to ensure that programmes of service delivery are responding to the needs and aspirations of the people. This is because poverty is the major cause of human trafficking. Greed and patriarchal attitudes also play a big role. In Africa, there is need to create greater awareness of the problem. What Africa also needs most is a network of information through research and data collection that will clearly show the magnitude of the problem of human trafficking on the continent.
Fortunately, Dioceses in Africa and religious congregations are starting to embrace human trafficking as an important apostolate. Many Church justice and peace projects, in Africa, are now being directed towards this cause. Nevertheless, much more can and needs to be done. In the words of Pope Francis, individuals and nations should end indifference and tolerance of human trafficking.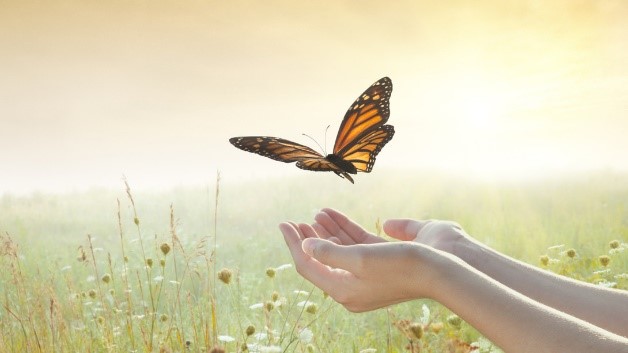 We are all on a journey, from the day of our birth till the day we die. We make many other journeys during this time and for most of us, we are fortunate that we have not had to endure the hardships of many migrants and Refugees. As Sisters of St. Joseph, we make other journeys as individuals, as community members and as Entities. Each of them challenging, each of them watched over by Joseph our Patron. Together we make a journey as a Congregation, as Sisters of St. Joseph. We journey with our Orientations from one Chapter to the next. In our most recent chapter, we heard the words of Isaiah saying "Look! I am doing a new thing….can you not see it? We were left with some questions to ponder: Who are we together? who is God calling us to be? And what is God calling us to do? How many times did Joseph find himself asking these questions.? Having reflected on our current reality with open hearts minds and wills, we are challenged to look at the new things that is emerging for us as we journey. We are called to think and act in a new way just as Joseph was. This is a challenging time for many Entities, a time of change and letting go.
Where do you find yourself on the journey of life? What is challenging you as you journey? Where do you find rest for your soul? Having just returned from Africa, the day-to-day journey there has different challenges but all to do with relationships, love and trust. St. Joseph is as relevant to the people in bush villages as he is to those who live in the heart of the city. St. Joseph is the patron of all Sisters of St. Joseph in every Entity so let us look to him for guidance and example and let us trust him that he is leading each of us on the journey we find ourselves on. I take this opportunity to wish each of you a blessed Feast of our great Patron. We are united in love on our journey throughout the Congregation.
With blessings and prayers,
Sr. Breda